Why have countless photo frames gathering dust around the house when you can have a few carefully curated photo collages? Creating a photo collage sounds complicated, but our photo collage maker streamlines the whole process, making it easier than ever for you to transform your walls.
Photo collages also make the perfect gift, as it can take time and effort to create one cohesive artwork from your collection of treasured memories. Yet photo collages are also affordable, high quality and long-lasting. They show your loved ones that you care, and they're also fun to create – the only limit with a photo collage is your imagination!
So, what is a photo collage maker and how does it help you create amazing photo collages? Here's how.
What is a photo collage maker?
A photo collage maker is just what it sounds like. It's a tool that helps you create beautiful, high-quality photo collages without having your finished artwork looking like an awful art project!
A photo collage maker should make it super easy to create collages to suit any occasion – and ours definitely hits the brief! Our photo collage maker has a huge variety of different layouts and themed collages. It also makes it easy to add a range of your own images and add any effects that you desire to your pics as you go!
How do I create a collage using the photo collage maker?
First off, you need to decide what you need your photo collage for. Is it for a gift? In that case, you'll need to decide on a theme and have your chosen photos ready.
Or, is it for yourself? In that case, the room you're looking to place your photo collage in might determine the style of your photo collage. If it's for the bedroom, you might prefer to use couples' photos of you and your partner.
On the other hand, if it's for the living room, you might want to choose family photos. If it's for your home office, perhaps you want to create a vision board of all the things that inspire you. In any case, consider where you're placing your collage and the mood of each of your spaces.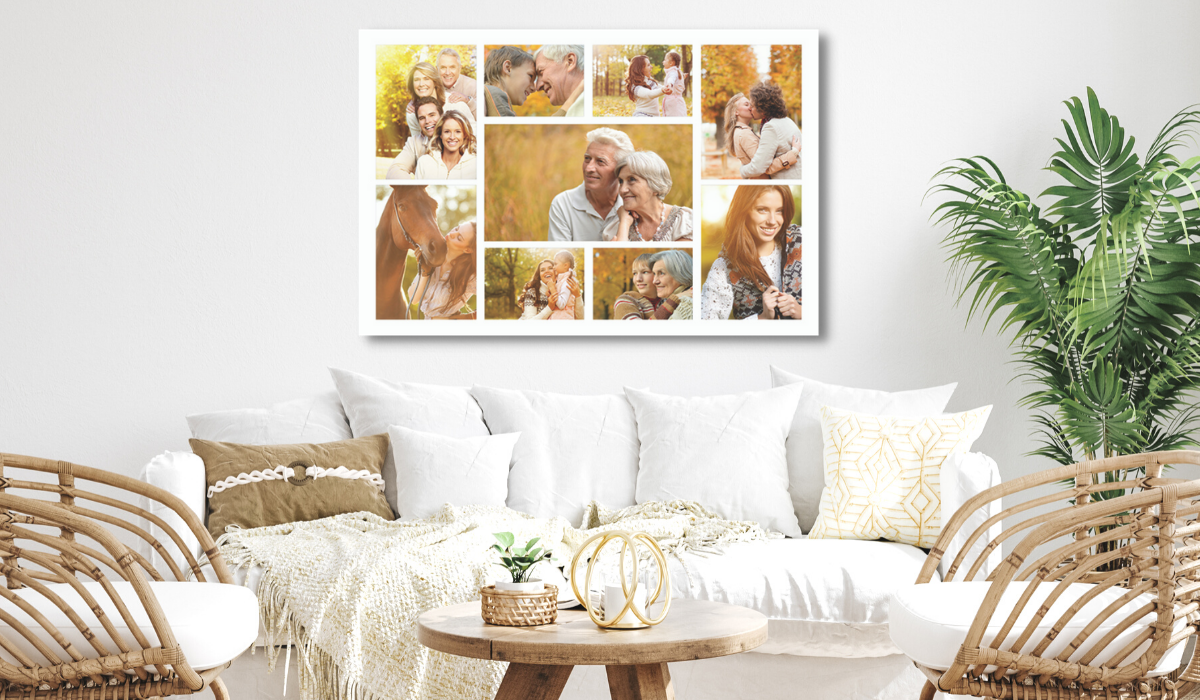 1. Choose a theme
First step: choose your photo collage theme. Luckily, this step is super simple with our photo collage maker, as we've already got pre-made themes for you to use. Choose from themes like:
Love – perfect for wedding photos or just couples' photos for Valentine's Day or a special anniversary
Pets – the ideal way to commemorate or celebrate your pawfect pal!
Family collages – great for family photos or sibling photos
Baby collages – choose from girl or boy to celebrate a new baby coming into the world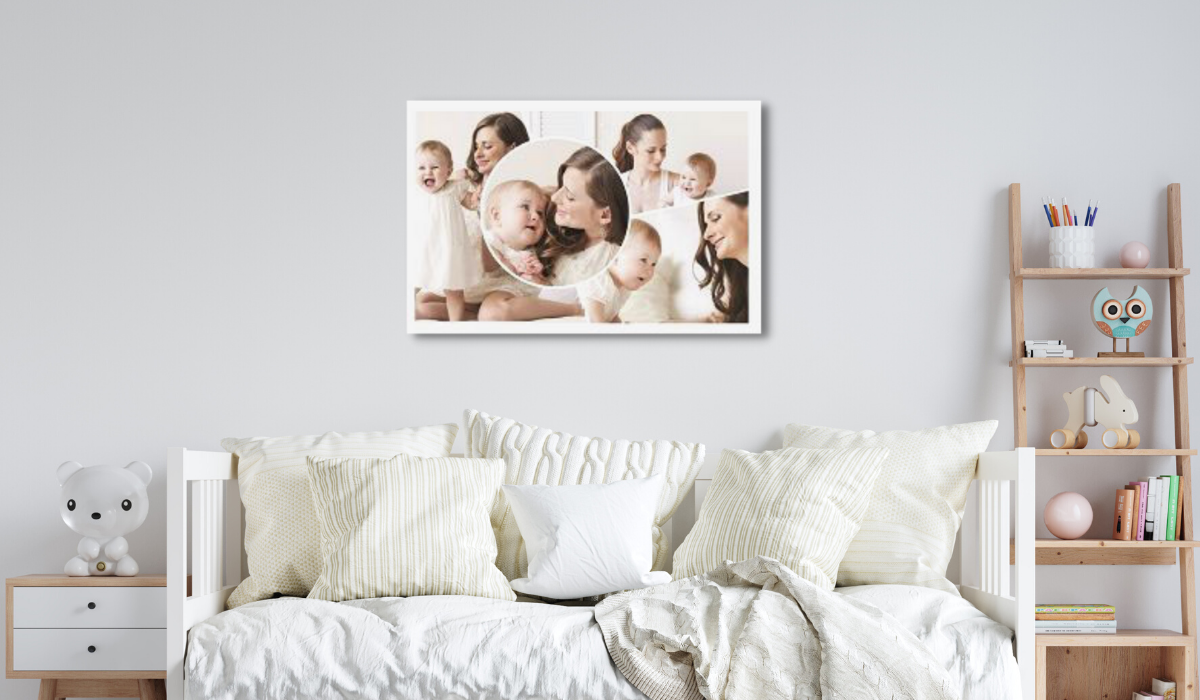 2. Create your own photo collage
Don't have a theme in mind? Don't worry! You don't need to be limited by a theme. If you don't want a specific themed collage, you can always just make up your own – that's the beauty of our photo collage maker. Simply choose a layout from our range, and select images that centre around a specific theme. Our favourite ideas are:
A collage of trip overseas with friends or family
A collage to commemorate a friendship – these make great presents for your friend's 18th, 21st or 30th birthdays, graduation presents or any occasion, really. You don't need an excuse!
Photo collages with inspiration for your home office. You can include inspiring quotes to motivate you to work
Christmas themed collages commemorating special Christmas memories from over the years
Collages to celebrate a passion or hobby. Whether it's a favourite band, travel destination, sport or hobby, collect images around that theme and build a collage around it!
3. Choose a size and layout
Next up, choose a size. Whether you're choosing a collage as a gift or for yourself, think about how large you'd like it to be. If you're creating a photo collage featuring at least ten images, remember that each image will be fairly small unless you choose a larger size! You don't want to have to whip out a microscope to look at your photo collage.
When selecting a layout, consider how many images you're actually going to be using and in which orientation they are. Ideally, you want a mix of portrait and landscape images to create a dynamic photo collage that has depth.
The great thing about our photo collage maker is that, unlike when you're creating a real collage, you can play around with different shapes, sizes and images without having to pull out the glue stick or cut up any photos!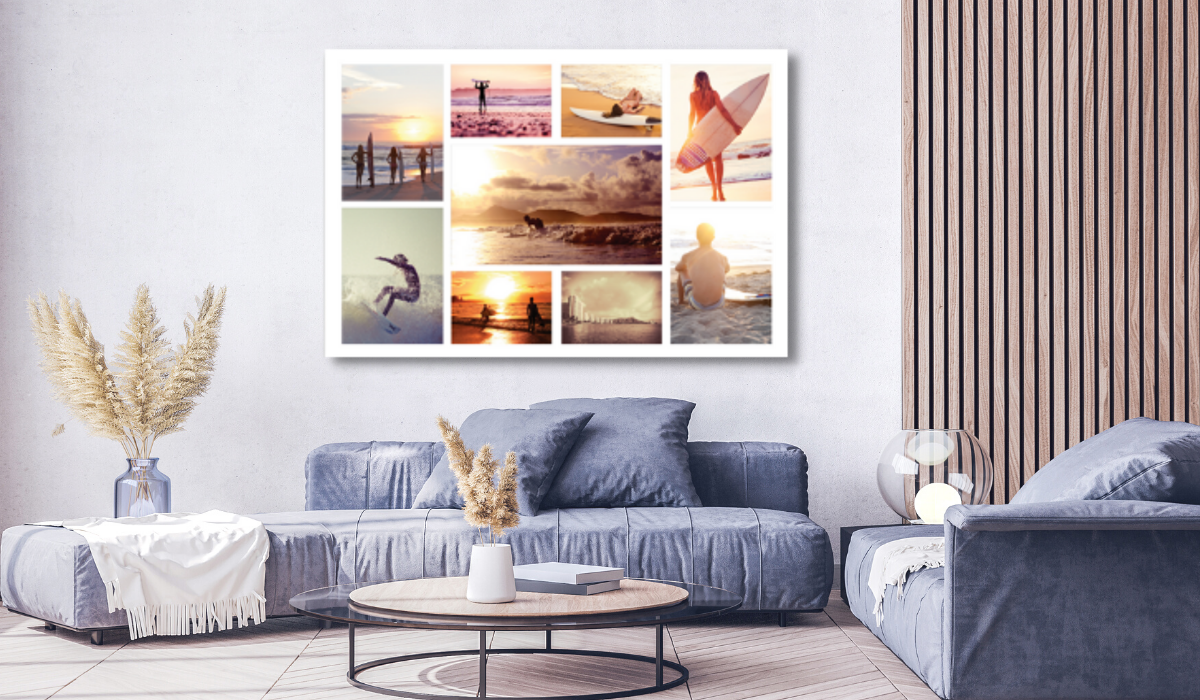 4. Use the photo collage maker to start creating!
Now that you've decided on your theme, layout and your images, you can start creating your collage! Simply choose how to arrange your photos and then switch up your design until you have a finished design that you're happy with.
Once you've added your favourite images in the photo collage maker, you can also add any effects you'd like to the images. Then, simply place your order and wait for it to arrive – simple!
If you've got images ready, you can start ordering now here. Or, if you can't find the perfect image in your collection, start browsing for the perfect picture here. We've got over 20 million images to choose from, so you'll be spoilt for choice!