Wondering how to decorate your home? Decorating can seem overwhelming at first, especially if you've just moved in or you're looking to kick off a full-scale renovation. Either way, your home décor can have a surprising effect on your mood. It has the power to transform your spaces and inject your home with warmth and personality.
If you're not sure where to begin, we've pulled together our top decorating tips and tricks. The best part? You don't need to spend thousands. There are home décor solutions for practically any budget.

And there's no need to change everything all at once; you can build your homewares collection piece by piece over the course of weeks, months, or even years. In fact, we recommend doing this so you can see how everything fits together as you add to your collection.
In this blog, we'll give you a step-by-step guide on how to decorate, including our top tips on the best budget-friendly décor options.
Step 1: Splash on a fresh coat of paint
When you're learning how to decorate your home, the first thing you need to do is start with a fresh base. This will make all your homewares pop and look that much more elegant.
So, get painting! Opt for fresh neutral tones, like a cool white, light grey, beige, sand, or warm white if you prefer. If you like a "clean" look you can paint your trims and ceilings in a pure white tone for contrast.
Start your painting preparation by cleaning your walls to create a clean base. Cover the floors with drop sheets, making sure every surface is covered. Cover or move any furniture as needed. If you're painting skirting boards a different colour, then ensure these are covered, too. Use masking tape to create a clean line on the edges of walls and doors, and around powerpoints.
Start by using paint primer and then add 1-2 coats of your chosen paint colour on the walls, leaving a few hours to dry in between.

Painting your home can be an involved process, and, depending on how big your home is and how many helpers you have, you'll need to set aside at least a weekend to get it all done. But the results are well worth it!
If you're on a budget: Simply removing spiderwebs from the ceilings and cleaning any marks off the walls using Sugar Soap can make a huge difference without the need for painting.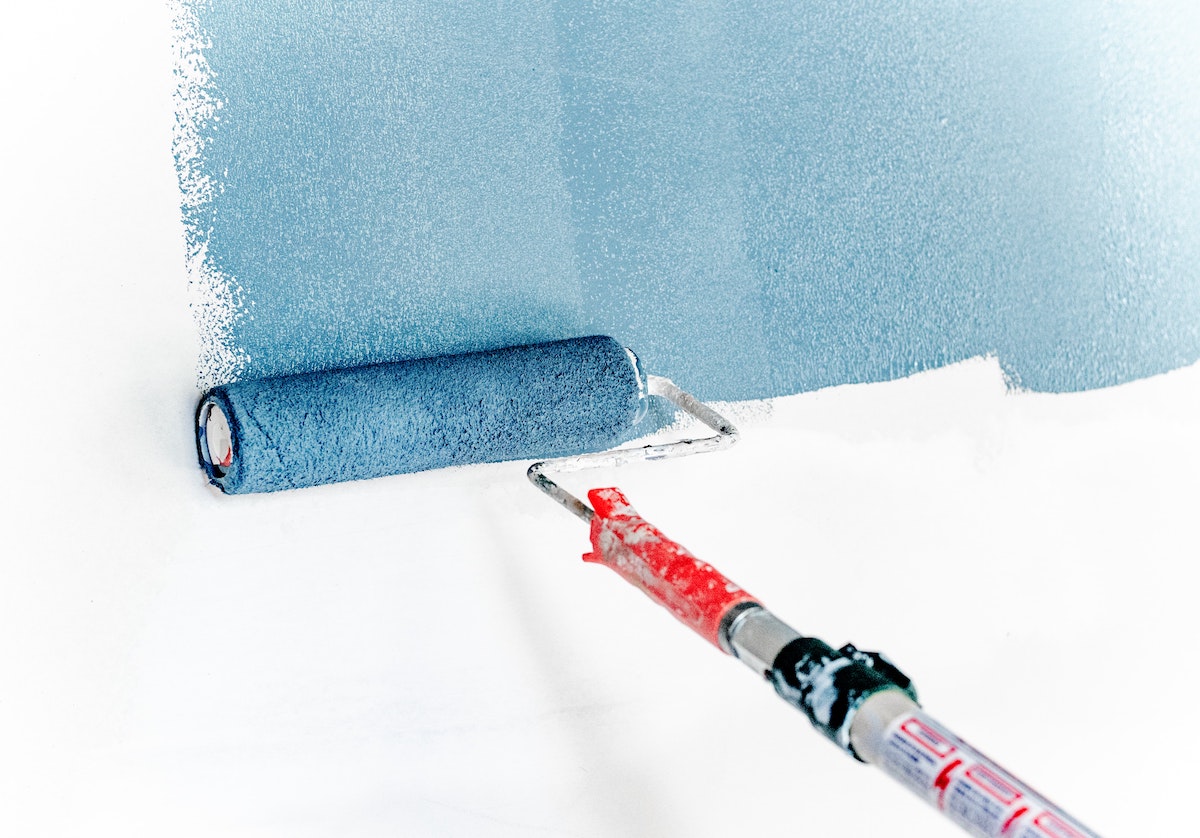 Step 2: Clear up the clutter
Next up, clean up! First up, see what you can throw out. If it's not adding anything to your life, throw it away or donate it to charity. Get rid of any clutter lying around and invest in some organisational tools.
There's nothing more underrated than the power of organisation, which is why TV shows like Tidying Up with Marie Kondo are so popular.
Companies like The Organised Housewife offer countless organisational containers, dividers and organisers to get your home into shape. Go from room to room and see what you can tidy and organise, from your wardrobe to the kitchen cupboards and beyond.
If you're on a budget: Head to discount stores and grab some home organisers from there. Get creative and use stationery organisers in the bathroom, bedroom, or kitchen.
Step 3: Add some art
If you're not up for cleaning or painting but are trying to figure out how to decorate a room with simple things, art is the best way forward. Wall art has the power to brighten up your rooms, add colour and personality, or remind you of some of the best times of your lives.
If you really want to make a statement, go for full-scale modern abstract art. Or, to add a personal touch to your bedroom or living areas, you could add a canvas collage with photos of the whole family.
If you're on a budget: Simply add a single canvas print and slowly build on your collection from there. Why not create a beautiful black-and-white family portrait, hang a wedding photo, or choose an artwork from our range? We have millions of designs to choose from.
Step 4: Update old furniture
Is your furniture looking tired and sad? Instead of throwing it out and starting again, why not upcycle? Add a fresh new coat of white paint to old furniture to freshen it up and bring a breezy coastal feel to your home. Or, for something really different you could try pastel paint colours like pastel blue, candy-coloured pinks or mint green.
If you're on a budget: Simply dust and clean your furniture thoroughly and add a coat of varnish to add shine to older furniture. Or, swap out the cushions on old chairs to update your dining room. You could also hunt for vintage furniture in vintage stores and op shops. Often these pieces just need freshening up and they can last for decades!
Step 5: Refresh your pillows
One of the best-known decorating tips and tricks is to switch up your cushions and cushion covers. You can even switch them out from season to season and wash them in between to freshen them up. Cushions are like mini-artworks within your home and are an affordable way of redecorating your home.
If you're on a budget: If you love the cushion cover but your inserts are feeling a bit flat, wash your covers and grab some new cushion inserts to get longevity out of your cushions. And vice versa: if you already have perfectly good cushion inserts, search for bright, interesting cushion covers.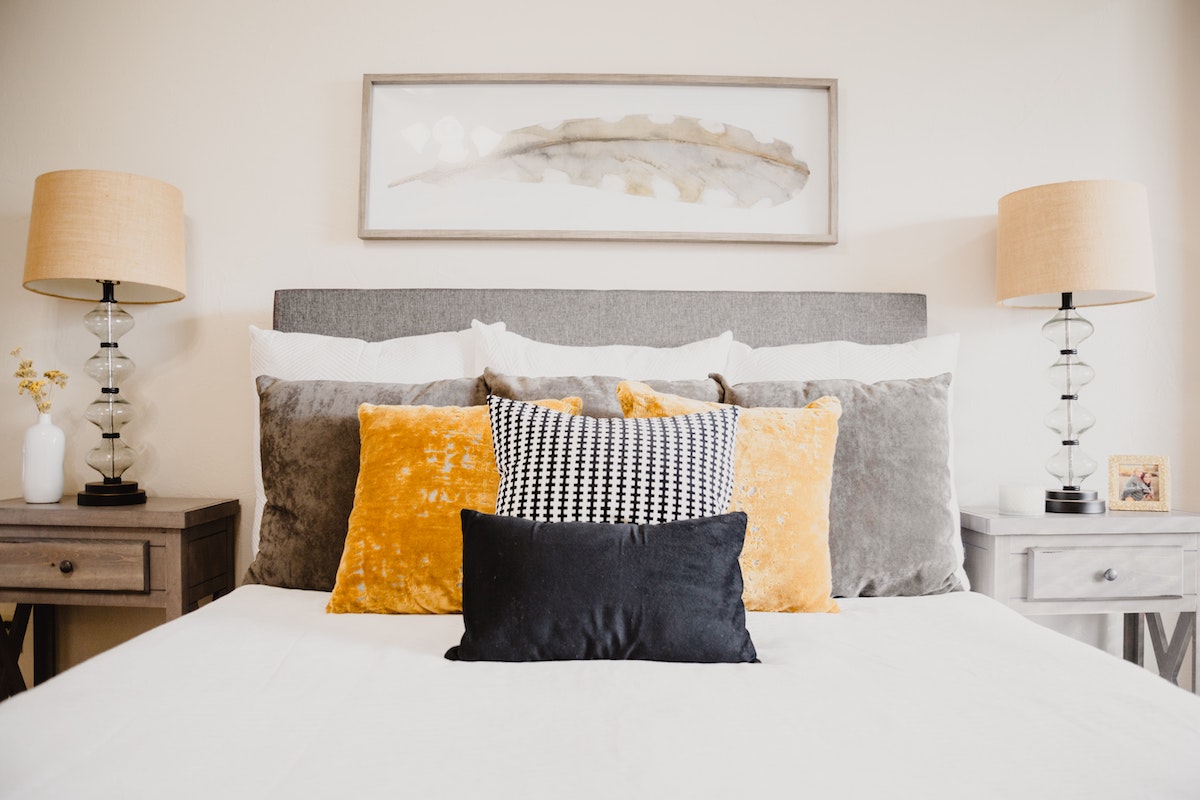 Step 6: Make a statement
Once you understand how to decorate your home you can take your décor one step further. Create a statement wall in your bedroom, living room, guest room or home office by adding one of the below:
A display of your favourite collective plates on the wall
Painted accent walls with statement wallpaper
A Split Canvas Print with an epic landscape print
An oversized statement mirror propped against a wall
Large-scale wall hangings or textiles to add texture to your spaces
Blank walls are boring. Why not add some colour and personality! The best places to add wall art or displays are any blank space, but common spots can include:
In your entrance hall
The space above the bed
In the dining room
Above your couch
Along a hallway
In the living room
If you're on a budget: Get creative and use something you already have as wall art, such as a handmade patchwork quilt, an artwork created by your children, or a collection of old vinyl records that are unusable.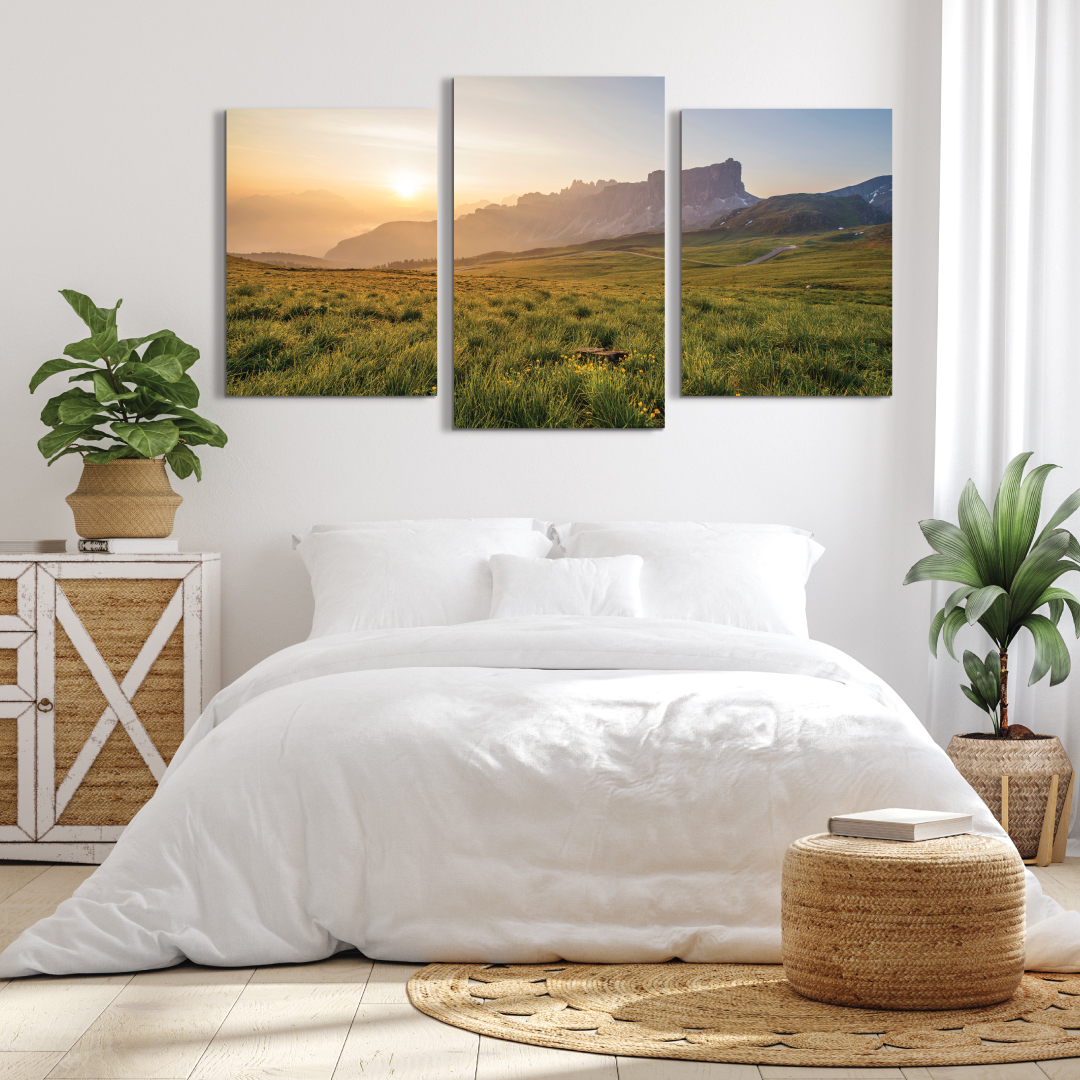 Step 7: Add colour
Colour can work wonders in all kinds of homes, large and small. Bright colours are trending at the moment, but that doesn't mean you have to go crazy by adding all the colours of the rainbow in one room.
Stick to a general colour palette, or add a couple of colours and build up from there. Seasonal pieces like cushions and canvas prints are a great (and affordable) way to add colour and mix up the palette in each of your rooms.
In fact, you could select your favourite wall art piece and then build out your colour palette based on the colours in your artwork using it as an anchor.
You could also add colour with greenery! Adding indoor plants strategically around the home can add pops of colour in each corner. You can even add colour with bright towels in bold tones like emerald, orange, or deep purple.
If you're on a budget: Create a neutral palette with your furniture instead of buying trending pieces. Then, simply add colour with more affordable items. Or, paint existing items you have like pots, the frames of mirrors, and create your own art for the walls! Scour the markets for vintage floral vases and invest in some bright, high-quality everlasting flowers that can stay in place all year round.
Step 8: Swap out your hardware
One of the most important decorating tips for beginners is to make sure you don't neglect the little things! Freshening up the smallest things in your home can make a surprising difference in your overall home aesthetic.
So, to begin with, check out your taps, light fittings, and the handles on your draws and cabinets. If they're looking a little shabby or they're mismatched, perhaps they could do with an update? Handles, taps and light fittings can be fairly cheap, and they will last a long time.
Go with a consistent theme in each room. Gold taps and hardware are trending at the moment but if you want a more timeless option, opt for hardware with a matte black finish.
If you're on a budget: Switching lights to energy-efficient bulbs and showerheads to water-saving fittings can save you hundreds of dollars (or more) every year and can even add value to your home. Investigate your options before you begin!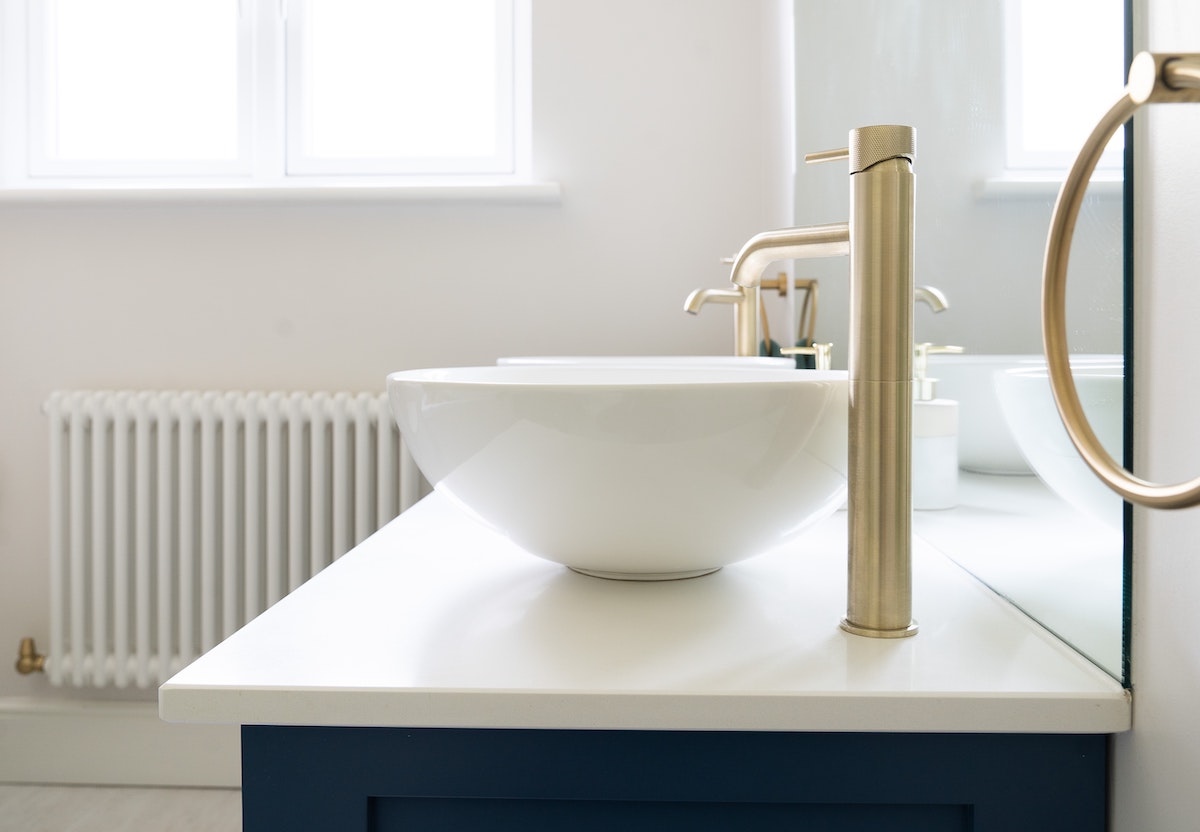 Step 9: Add hanging rails and floating shelves
There's nothing worse than clutter. Now that you know how to decorate your home and you've cleaned up your clutter (see Step 2!) you want to be sure you actually keep it clean. To do that, you'll want to make it as easy as possible for yourself.
How? By adding strategic storage spaces around your home! Try the following:
Hang hooks in your kitchen for pots and pans or kitchen utensils
Add floating shelves to stack pictures, small pot plants and other decorative items
Add ottomans that double as storage boxes
If you're in a small space, always get furniture with added storage, like beds with a lift-up mattress, or couches with storage underneath
If you're on a budget: If you can't actually buy any new furniture or install anything on your walls, work on utilising the storage spaces you already have. Fold clothes more efficiently, get shoe stackers, or re-arrange your furniture so you have more space.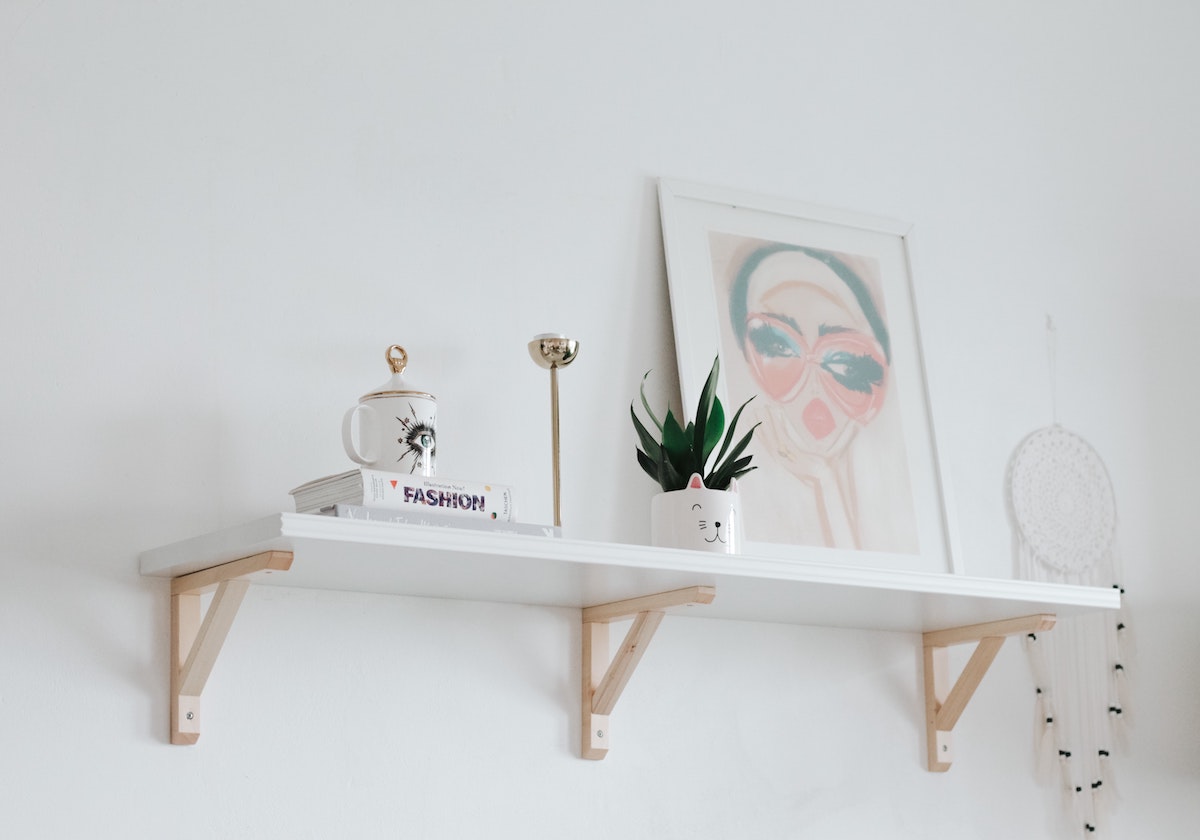 When you're redecorating in your home, not everything needs to be brand new. There are plenty of handmade decoration ideas for your home that you can utilise to add colour and life to your spaces. You can mix new pieces with upcycled furniture and handmade decorative items to add personality to your home and truly make it your own.
We hope this has helped you to understand how to decorate your home, no matter your budget. If you'd like to create epic works of art to refresh your home, try our beautiful canvas prints, durable metal prints or chic gallery-style acrylic prints. Or, if you're not sure what you want yet, browse our wall art designs here.