As much as we might want to, we can't all afford to live in mansions (outrageous, we know!). But, with these nine small living room decorating ideas, you'll discover that you can maximise your space while still enjoying all the creature comforts of home.
It is definitely possible to live in a small home and transform it to create a beautiful space! Ready to learn about some small living room decorating ideas? Keep reading to find out.
1. Use Neutral Colours
A neutral palette not only provides class and calm, but it has the extraordinary ability to enlarge a space. Sure, it's just a matter of perception, but interior design is all about managing appearances – and neutrals appear to push back the walls. They will enlarge the appearance of your walls and help your room feel less cramped.
For the full effect, try using neutrals everywhere – whites, beiges, greys or lilacs – on walls, floors, ceilings, curtains, artwork and furniture upholstery.
Image from Valerie Grant Interiors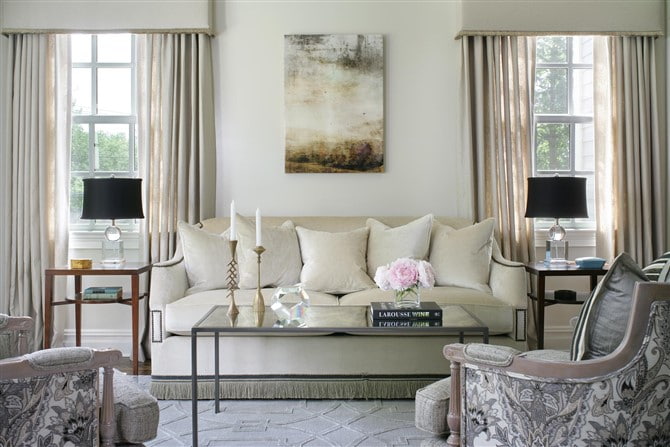 2. Use Small Tables
Rather than having one big coffee table taking up all the space in your living room, use multiple small tables. This will give you extra space, extra storage and more spots to place things of beauty like lamps and flowers. It also gives you the flexibility to move around your spaces at will.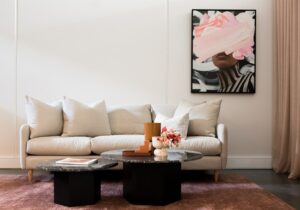 3. Create More Floor Space
Want to create a dance floor in your living room? Or perhaps you just want more space to move around? Either way, push a couch up against a wall or use a modular design to frame a space.
It allows for more floor space and keeps a room feeling more open. It reduces the number of narrow passages – essentially 'dead space' when it comes to a small living room.
Image from McKenna Bleu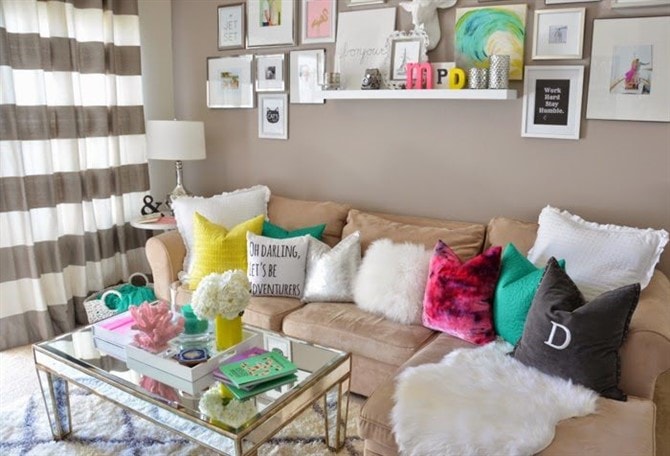 4. Try Different Seating Options
When it comes to small living room decorating ideas, it definitely pays to mix things up a little, like a variety of seating options. Rather than two large sofas, try adding a sofa and a few chairs or a sofa and a love seat. This idea means you can enjoy the comfort of a sofa, but not have to sacrifice space.
Besides, have you seen the cute chairs and love seats that are available these days? They're amazing! Much more fun than a second sofa.
Image from Making Home Base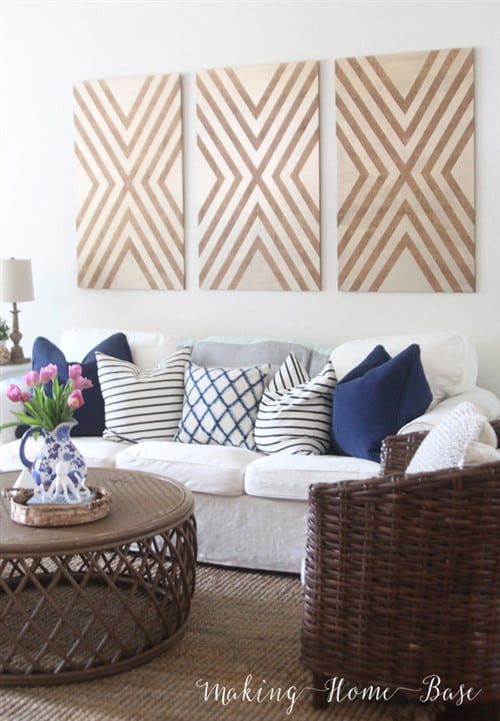 5. Try A Loveseat
If you're not one for big, long, lazy Netflix binges and prefer to use your living space for reading and chatting instead, consider a loveseat rather than a sofa. You can then couple your seat with an accent chair or ottoman. The example below is so dreamy – quite an amazing achievement for such a small space.
Image from The Real Houses Of Instagram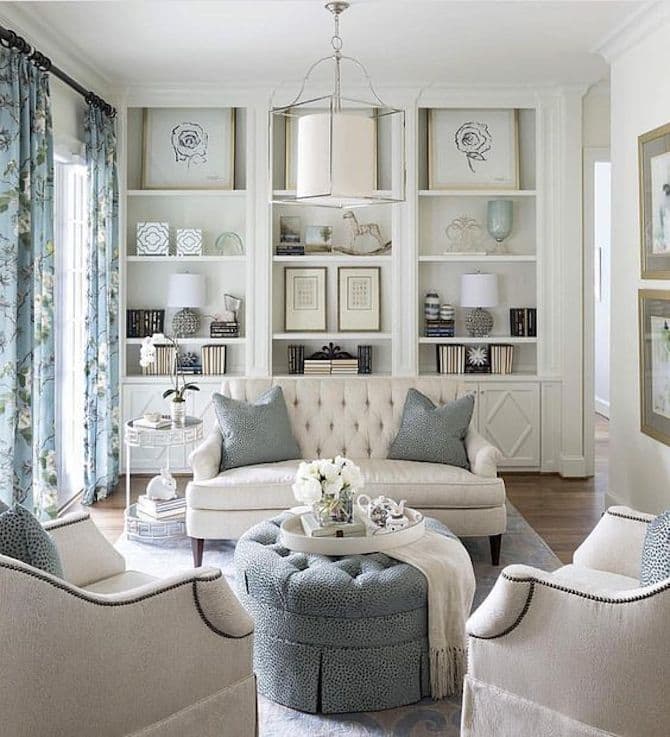 6. Use A Bookshelf
Sometimes, when dealing with small living spaces, it's essential to get creative. If you're trying to combine a lounge with an office or a lounge with a dining area, consider using a bookshelf to create separate living spaces and add storage space.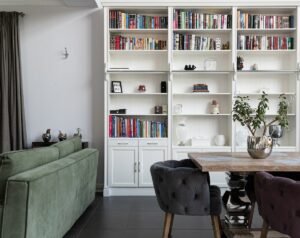 7. Hang Pictures
When your floor space is limited it's often vital to maximise the wall space in order to achieve those more creative touches. To accentuate the height of a room, hang artwork slightly higher than you otherwise would in a standard space. This can trick the eye.
Before committing to where you're going to hang something or what you're going to print, try different layouts. You can do this by cutting out pieces of paper or cardboard and temporarily sticking them to the wall.
A layout like this split image metal print, below, is a wonderfully creative way to bring a wall to life.
Image from Canvas Printers Online.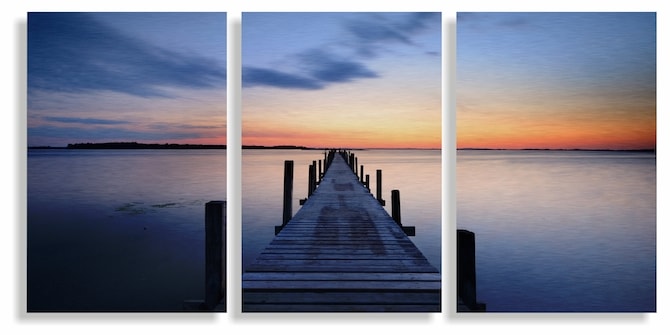 8. Add Glass Elements
There's something to be said about smoke and mirrors or, in this case, glass and mirrors. Using glass and mirrors in a space is a foolproof way to give a room the appearance of more space.
A glass coffee table opens things up rather than closing them down. There's something about the ability to see through an element that gives a room a sense of something almost infinite in nature.
Image from Erika Bonnell Interiors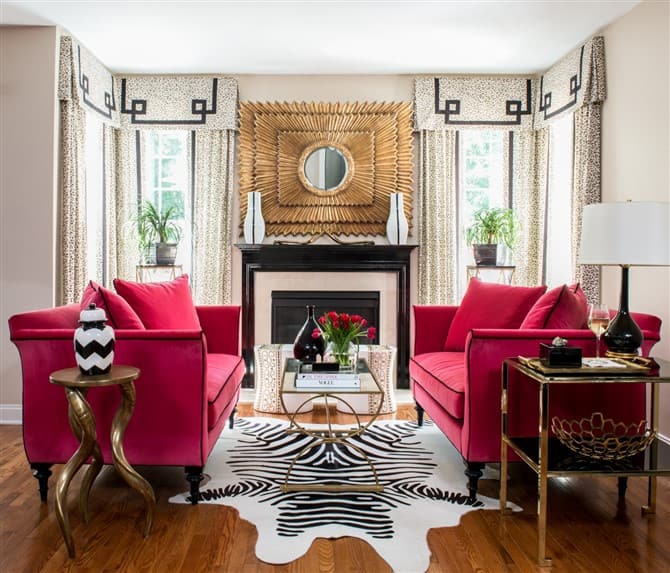 9. Decorate With Mirrors
You've probably heard this one before, but it's worth repeating. A strategically placed wall mirror gives a room depth and dimension. It's the oldest trick in the book.
Adding an oversized mirror behind furniture will enhance the size of a room. Give it a go!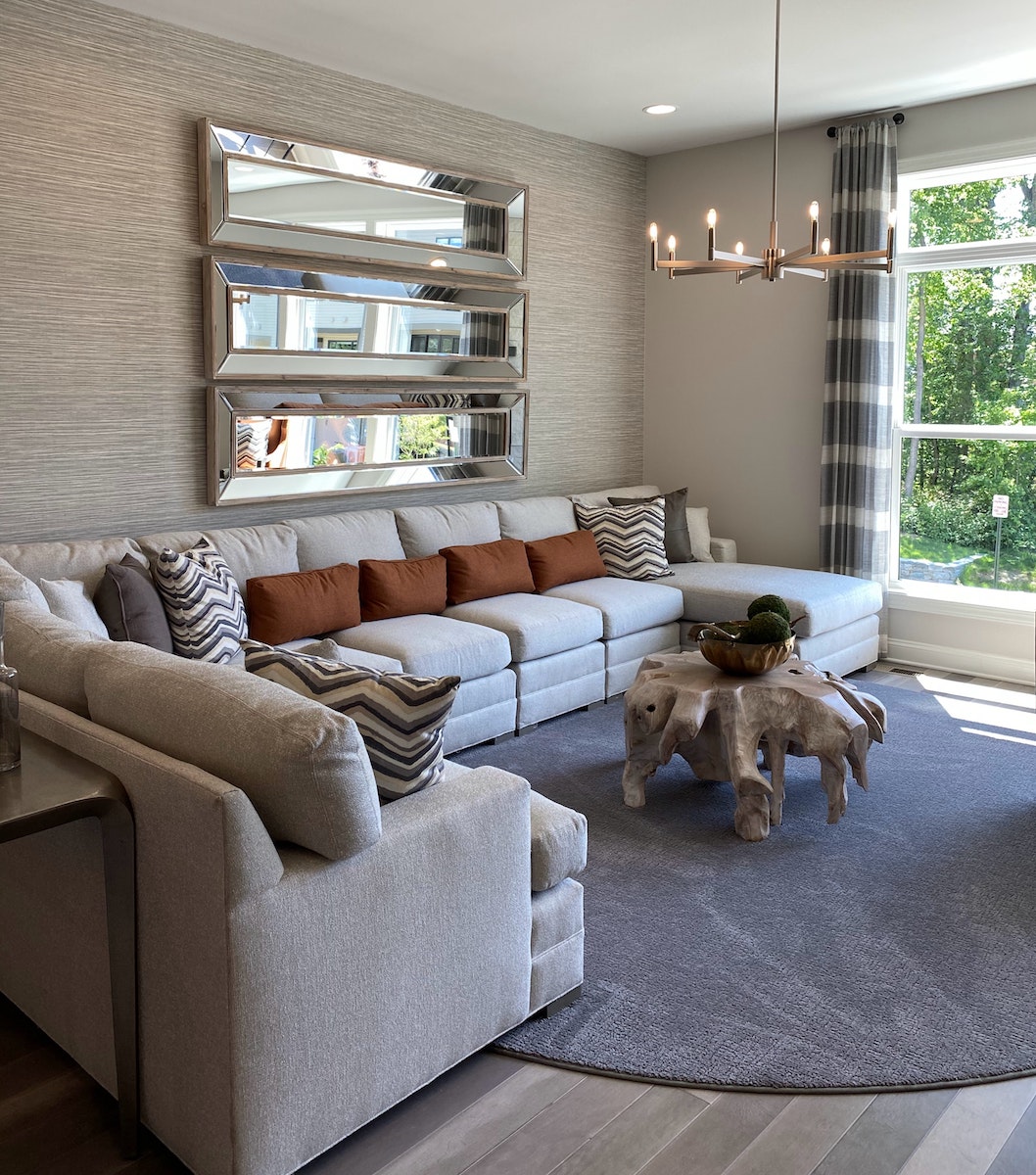 Want to try out these small living room decorating ideas? Don't leave your walls bare! Start shopping now and explore our wall art options here. We have (quite literally) millions of options to choose from!