Canvas Printers' customers love collage, so we're delighted to now be offering four styles of collage: traditional, themed, modish and silhouette.
Collages are a new favourite because, unlike old fashioned family portraits, you don't have to choose just one photo. You have the opportunity to get family or friends together and create a sense of life, love, joy and movement.
And you don't have to stop at people. We all know how many brilliant photos we take when we're travelling. These days, while on holidays, some of us end up taking up to 1000 photos! Some of our collage designs let you feature up to 10 different photos. It's a wonderful innovation and we're proud to bring this to you.
To make it as easy as possible for you to make a photo collage, we're excited to provide you with a photo collage maker online. Here, you can create a print – any print from our style gallery – including collage.
Unlike other complicated photo collage software, this web-based tool is super simple. That said, for those who aren't as savvy as others with technology and design tools online, it may – at first – seem a bit daunting. So below is an easy step-by-step guide for those who are keen to learn how to make a photo collage and haven't yet used our tool.
Step 1: Choose A Material
Go to 'Create A Print' and select your preferred material: canvas, acrylic glass or aluminium.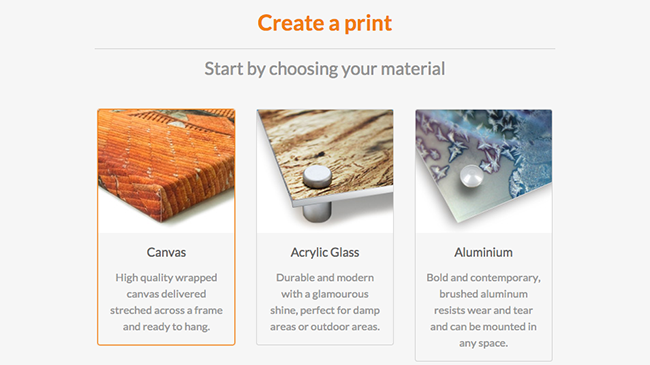 Step 2: Choose a Shape and Size
Select 'Collages' and choose your shape: traditional, themed, modish or silhouette and your size. For canvas prints, there are three collage sizes available. For glass and metal prints, there are two.
You don't have to choose the shape straight away. Feel free to browse through the various options and choose one that's going to best suit your photo selection.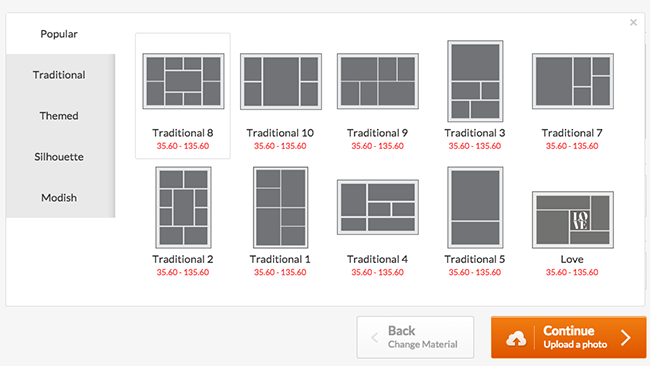 Traditional Shapes
There are 10 traditional collage designs to choose from, giving you the opportunity to print between two and nine different photos. Traditional collages come in either landscape or portrait sizes. The collage picture frames are also a range of landscape, portrait or square shapes.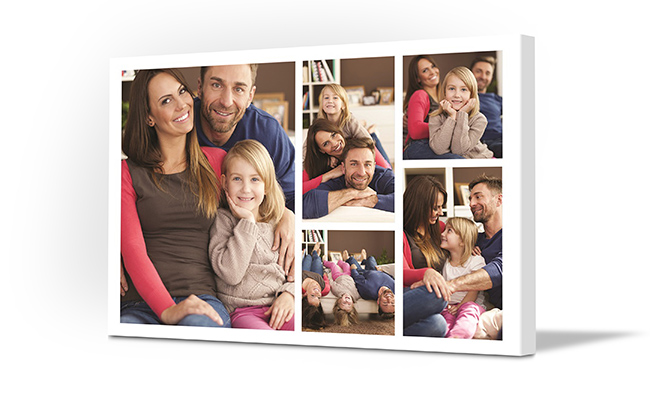 Themed Shapes
These collage designs are very similar to the traditional designs except they feature a quote themed for special occasions and activities such as Mother's Day, Father's Day, Valentine's Day, Births and Deaths. One of our most popular prints is our gorgeous themed Pet In Memoriam collage.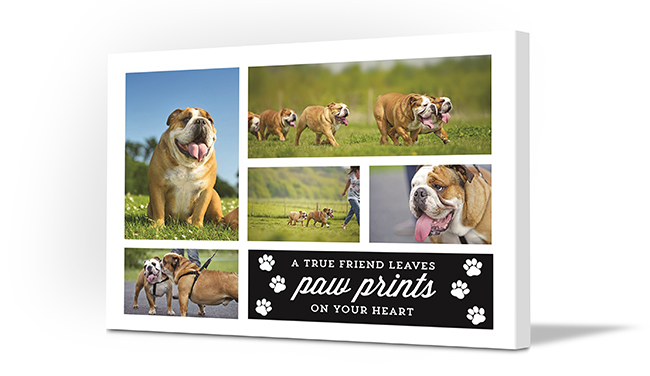 Silhouette Shapes
Our newest addition to our collage collection, these prints are touching, celebratory and quirky. They speak to the occasion with the 45 x 30cm print a perfect addition to a child's bedroom, sewing room, home office or workplace cubicle! Definitely a talking point with pregnancy, bridal, paw and balloon shapes among our top sellers.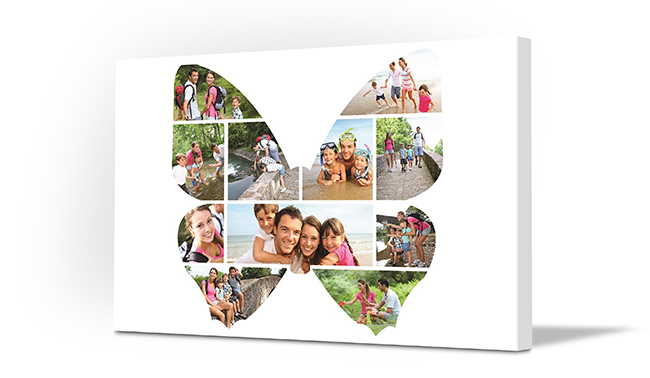 Modish Shapes
Our trendy modish collages are the cutting-edge in wall art design. Ranging from the cute to the funky, they make for a terrific gift for that special someone in your life.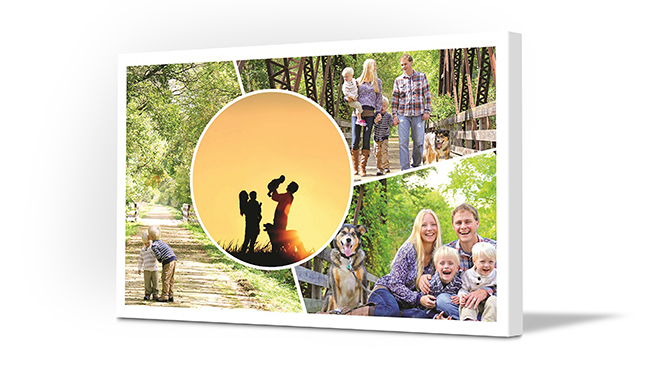 Step 3: Upload A Photo
Once you've decided your shape size, click 'Continue Upload A Photo' then 'Browse' to upload your own digital photos from your computer, from Facebook or Instagram. Have a look at your canvas picture to ascertain how many photos you need to upload then upload your favourite photos! Your photos, particularly if they are of the highest quality, can sometimes take a while to load, so please be patient.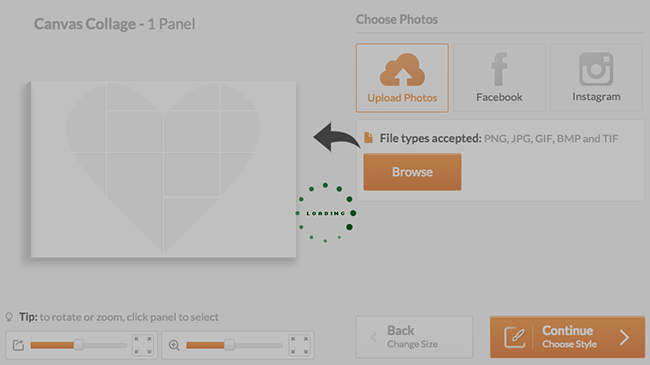 Make sure your photos are at least 150 dpi. If you are not sure if your photos are of a high enough quality, feel free to email the images to us at support@canvasprintersonline.com.au and tell us the canvas size you are wanting to order. We'll review the images and let you if they're OK.
Step 4: Create Your Collage
With your mouse, drag and drop your photos onto the frames in the collage panel. For each of the photos you place on the canvas, when you select one with your mouse, you can also use the 'rotate' and 'zoom' tool to rotate, zoom in or zoom out on the photo. You can also move them from left to right, up and down with your mouse.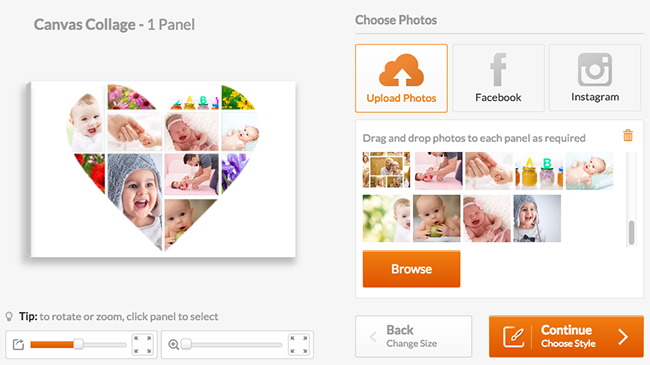 Step 5: Choose a Wrap Colour
Once you're happy with the placement of your photos, click 'Continue' to choose a style. This style option involves choosing a wrap colour. You can choose a colour from our swatch or use the eye dropper tool to capture a colour from one of the photos on your collage. Simply click on the eye dropper and then click on a colour. You'll see the wrap colour change before your very eyes! Very cool!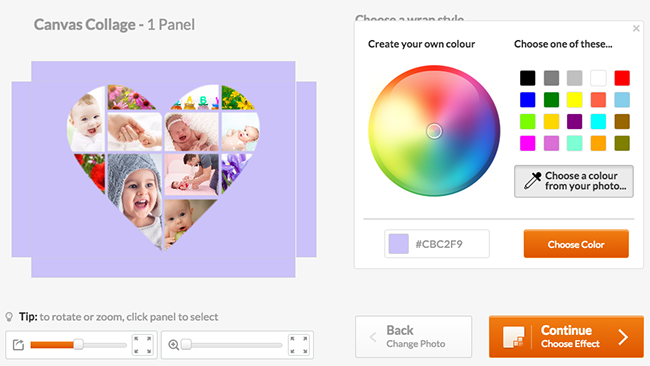 If you have chosen to print on our beautiful brushed aluminium, you can choose to include a wall mount or no wall mount. A wall mount allows for easy hanging. There is a slight gap between the wall and the print. No wall mount means you can mount it yourself, flush against the wall, using adhesive tape.
Step 6: Choose Some Effects
Select 'Continue' to choose effects. To change the appearance of a photo, click on the photo with your mouse and then select the effect you like. You can choose some pretty amazing effects with just the click of a button. The effects are heaps of fun to play around with, particularly the arty black and white and sepia tones. To find a second page of effects, click on the small circle underneath the 'Choose Effect' section. Here, you can bring up a second page of effects that will help you sharpen, brighten and enhance your photos. If you choose 'blur' you can smooth over fine lines – Photoshop made easy!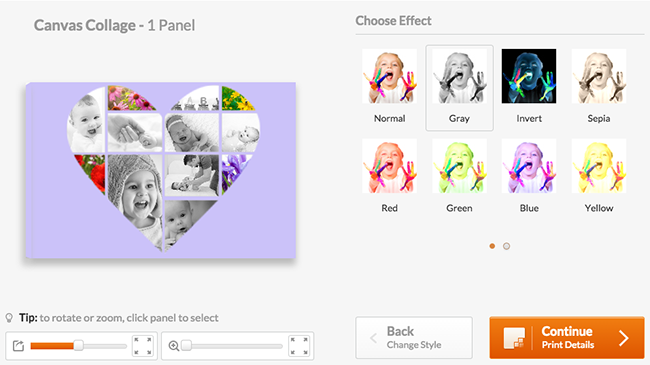 Step 7: Purchase Your Collage!
Select 'Continue – Print Details' where you will be able to preview your finished collage, review the size and the price and add it to your cart! At this point you can finalise your purchase or go back and make more collages!
Prints from Canvas Printers take 5-10 business days to deliver. In the meantime, be sure to keep your eye out for two types of emails from us: a) a confirmation email with a tracking number or b) an email advising you that your image is not high enough quality to print with a request that you to send us a replacement image.
The first collage may take some time to design, but it's all part of the creative process so enjoy the ride and, if you have any questions along the way, be sure to email us or contact us on our Facebook page as we're here to help. Create a photo collage online now! It's pretty addictive! Don't say I didn't warn you!