Creating a warm and welcoming office space not only creates an uplift in your overall office atmosphere, it also makes your office space feel more professional and, if done right, can even boost your storage space. But budgets can be tight, particularly in small businesses. It can be difficult to get approval for full-scale office fit-outs or office décor ideas which are, for the large part, for aesthetic purposes! Luckily, you don't need to spend a fortune to update your office. We've got a number of office decorating ideas to help you bring style and sophistication to any office space; on a budget!
By making just a few small changes or adding a few select pieces, you can create a bright and positive office space cheaply, with minimal disruption to your day-to-day operations.
Simple office decorating ideas
We've got 10 simple office decorating ideas to help you create a more positive and welcoming office space, fast! First, you'll need to assess the state of your current workplace. What needs changing, replacing or updating? When considering your budget, these items should be your first priority before any other quirky office decorating ideas. Check things like:
Are your walls dirty, chipped or dusty? If the shade of paint on the office walls looks like it hasn't been since the 70s, it might be time for a refresh. You'd be surprised how much a fresh coat of paint can make a difference. With proper planning, painting can be done over the course of a weekend in most small to medium-sized offices.
Consider whether or not you need more space, or if areas in your office can be condensed or re-shuffled. A large reception area could be condensed to a simpler, temporary desk space to be used between certain hours only, or even just reverted back to open-plan desks for new staff. Multiple meeting rooms could be turned into larger, open, break-out spaces with just the one corporate boardroom. Separate offices could be turned into open-office plans, or one large private group office for executives instead of multiple single private offices.
Organisation and storage. In the same way, assess your storage space. If you have dedicated storage rooms in your office, perhaps this storage be hidden underneath furniture space instead. Unnecessary or outdated magazines or books lying around can be thrown out, stored, or given away. You could declutter by moving old files, books, draws and boxes to be stored in an external storage unit instead of in the office.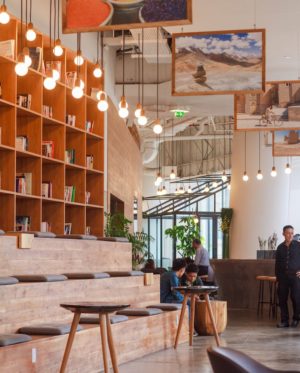 1. Replace old furniture
Assess your old furniture. Has it been there since 1982? If so, you might want to think about updating your office décor to something more modern, or that which better reflects the personality of your office. Consider your company values and the industry you work in (and those you work with!) and what that may look like.
Again, when considering office decorating ideas, investing in new furniture should be a high priority. But when you do, consider functionality, storage and maximising your spaces with multi-functional pieces. Ensure that your furniture will also stand the test of time. There's no point replacing old furniture that will only end up lasting a couple of years.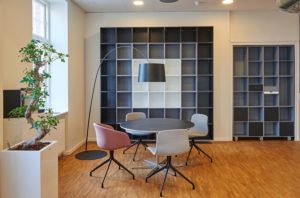 2. Add some texture
If your carpet is paper-thin, worn, dusty or full of stains, it's time for a change. Not only does old carpet house bugs and bacteria, it collects spills easily and can contribute to bad smells in the office if it's not steam-cleaned regularly. Instead, consider replacing carpets with floorboards and rugs. This is much easier to clean and looks very modern. Rugs are easy to replace and can add some much-needed colour to your spaces.
They can also be used to define various "zones" without physical barriers, like walls or partitions. A "zone" can be created by grouping chairs, couches and beanbags together with a table over a rug. Several zones can be created in an open-plan office without the need for walls. Booths and modern-style partitions can be added to certain areas if more privacy is needed.
For added colour or texture, add wall hangings or invest in some colourful cushions to add to chairs and couches. These are usually affordable and easy to replace if you need to change your office décor again in the future.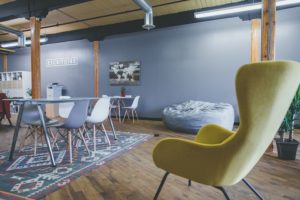 3. Add some colour
Interior design for office spaces doesn't need to be complicated. Often, all that is needed to spruce up your office space is a regular office clean-up, a paint job, and some colour. And what easier way to add colour than with wall art? Wall art is one of the easiest office decorating ideas of them all and doesn't have to be expensive. Instead of buying high-priced oil paintings, create your own art.
We've got over 20 million images to choose from. Alternatively, you could source a photo with a Creative Commons licence, or find your own photo to print on canvas, whether that's an art print you've purchased or a photo you created yourself. You could even enlarge and print inspirational quotes on canvas, or your company values. For a larger wall, create a large wall display made up of several images. For a smaller space, add a variety of several smaller canvas pictures. One or two large pieces, however, can really stand out and make a strong impact.
If canvas prints aren't your thing, or you'd like something thinner, premium metal wall art can look sleek and sophisticated and lends a nice touch to more modern and chic office spaces. They look great for black and white prints, or those with bold, vivid colours like landscapes. Our metal wall art is highly durable and can last decades; even outside, or work well in high-traffic areas like corridors.
Alternatively, acrylic prints are great for areas with moisture, such as bathrooms or kitchens, and they have a great, shiny, gallery-finish. An acrylic print can make a high-impact statement in a foyer area, as one large print, or as a split print image, and they are thin enough to not take up too much space.
One large colourful piece of wall art can make a huge difference to your office décor; particularly in break-out spaces and casual team meeting areas. Check out how to style your wall art to perfectly match your spaces here.
4. Ensure your spaces are multi-functional
When thinking about office decorating ideas, consider function as well as just aesthetics. When purchasing couches, stools, tables, or other furniture, consider those with added storage chambers.
Or, consider whether chairs and tables can be folded away or easily stacked when needed. If your employees are set on a ping pong table, aim to purchase one which can fold out from a wall, or fold up to be stored easily from Monday to Wednesday.
Ideally, you want office spaces which can serve a variety of functions, whether that is an indoor lunch space or a semi-private meeting, so furniture should be light and able to be moved around accordingly.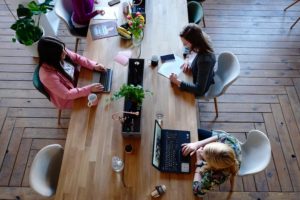 5. Go natural
Studies show that natural light boosts creativity in the workplace. When considering office decorating ideas for your new space, ensure there is a myriad of areas with natural light as well as lots of greenery. If it's too difficult to look after a large number of real plants, you could add fake plants, or have a mixture of both; just don't forget which are real!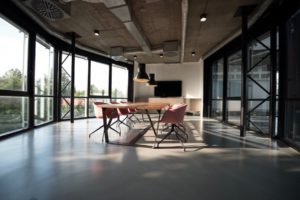 If that's too high-maintenance, add greenery by using wall art. Tropical prints and palm prints are in vogue at the moment, or you could add a large natural landscape image on a metal print for a vividly colourful, yet chic addition to a boring wall.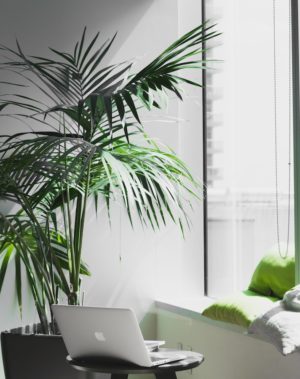 6. Try mismatched materials
Luckily, interior design for office spaces is seeing a mixed material, industrial look come into style. More than ever, we're embracing recycled and re-used materials in our office décor. We're seeing a mix of iron light fixtures, leather stools, seats and ottomans, and are seeing a variety of fabrics used in office furnishings.
But these pieces don't have to be expensive; look for mismatched furniture you can re-use and repurpose. These items can be found in garage sales, on Gumtree, eBay or at markets.
This can add a sense of quirky personality to your office décor, as well as being incredibly affordable. Metal wall art can also add a chic, polished touch which fits in with a modern, mixed materials look, and enhances your rooms quickly.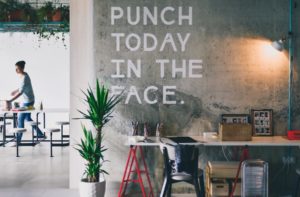 7. Involve your team
Ask your team to contribute to the office décor by choosing or voting on affordable wall art pieces and prints they love. Ask them to bring in personal items to make their spaces their own, like photos of pets or loved ones, plants or other trinkets.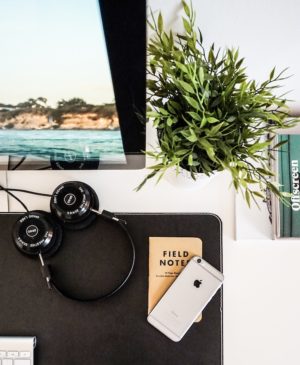 8. Improve cleanliness
If your office space doesn't always smell the greatest, you may need to invest in distributing air freshener regularly throughout the office, employ a more regular cleaning service, or just implement a stricter office cleanliness policy. Ban eating at desks, and ensure you have designated spaces for staff members to eat. Ensure you have airflow coming through the office wherever possible.
Make cleaning fun; incorporate a 20-minute cleaning session once a week. Turn on some music and get your staffers cleaning! This can also be a great way to stretch the legs after a long day of sitting.
9. Don't go too CRAZY
When it comes to interior design for office spaces, it can be tempting to add all manner of wacky trinkets or kitschy furniture in the office in an attempt to help you're your office feel more fun. But don't feel like you need to purchase gimmicky furniture or things your employees won't use, like ping pong tables or slides.
Only add those items which fit with your company spirit and values and, if in doubt, ask your employees to vote on what they want. After all, they're the ones who will be using the new facilities and furniture and, if they don't, it will be a wasted investment.
10. Get into the team spirit
The most important part of your business is your valued team members. By showing your employees that you honour and value them, you'll be contributing to a positive and collaborative working environment.
Remind them of the good times by adding team photos on wall art or wall displays. You can even create photo collages of important team events, or honour the employee of the month or year with a small canvas print each month or year to be hung on a dedicated wall.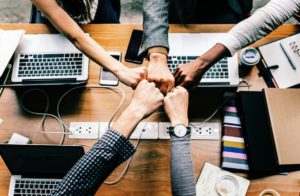 Hopefully, these office decorating ideas have given you the much-needed inspiration you needed to create a positive, uplifting office environment where you'll foster happy and creative team members.
To see the full range of wall art options at Canvas Printers, click here to view our sizes or browse through our range of prints and photos here.