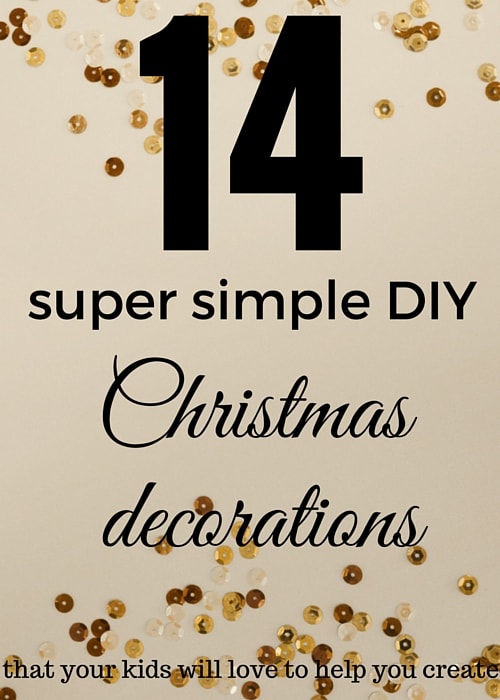 It's early December, and that means we're at business end of Christmas preparations. There's a Santa in every shopping centre and some kind of Christmas function on every night of the week (or so it seems). Even if you went out and bought every one of your Christmas presents today you still couldn't really claim to have been "super prepared" and finished everything off "early" this year. It's also the time of year when you realise that you really should be doing something about putting up some Christmas decorations and making your home look a little more festive.
Rather than make another quick dash to the store while your kids are at school (and use up one of the last few remaining days before the long summer holidays begin) to buy up what's left of the now well-gone-through rows of holiday decorations, why not make a list of some fun (and most importantly, inexpensive) DIY Christmas decorations that you and your children can work on together once the school holidays start?
We've collated the very best inexpensive, fun, and creative ideas and tutorials for DIY Christmas decorations to give you plenty of inspiration. Once the school holidays start, you and your kids will be equally happy to have some indoor projects to create. Enjoy!
1. Driftwood Canvas Christmas Tree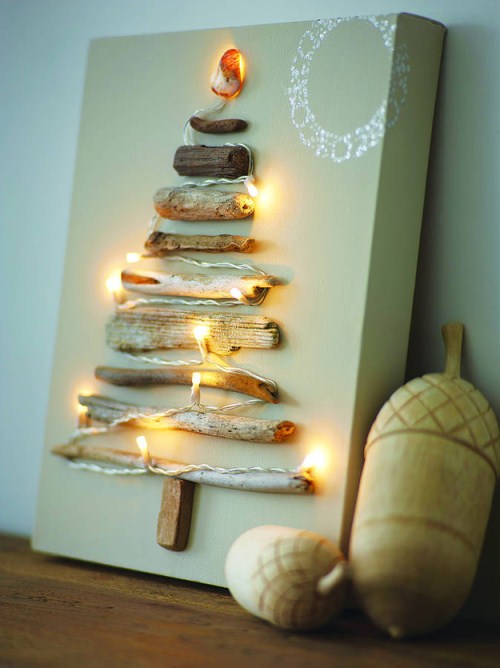 Driftwood Christmas trees on canvas are available to purchase online, but there's no reason why you couldn't make your own version at home. Combine a family outing at the beach, the park, or anywhere else where you can gather sticks and twigs of various sizes, and then arrange them in order on a blank canvas, add a short string of fairy lights, and you've got a fantastic DIY original.
2. Christmas Art on Canvas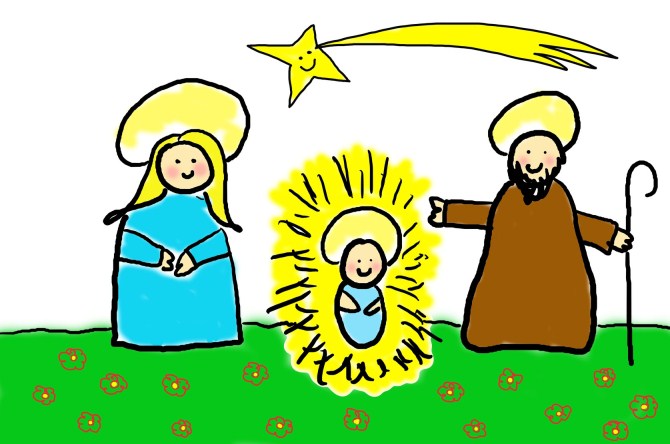 Speaking of canvas, did you know that you can turn children's Christmas artwork into cute canvas prints? Kids' Christmas artwork can range from sweet and clever like the nativity scene above, to downright hilarious. Capture the spirit of Christmas from your child's point of view by turning their authentic Christmas drawings into artwork that's ready to hang.
3. DIY Christmas Wreath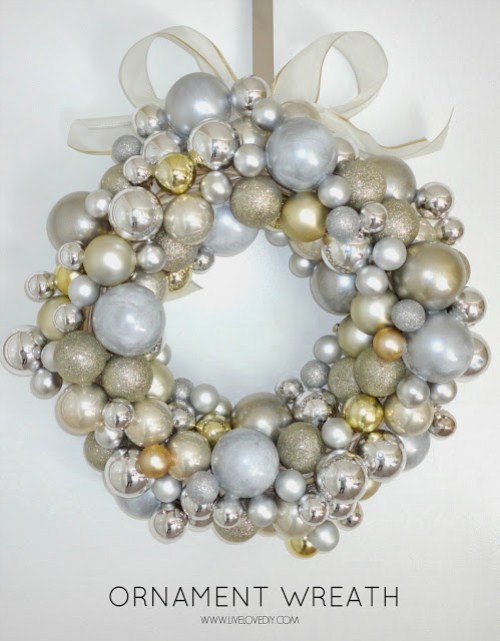 A small wooden wreath and a heap of Christmas baubles are all you'll need to create this DIY Christmas wreath.
4. Bottle Top Snowmen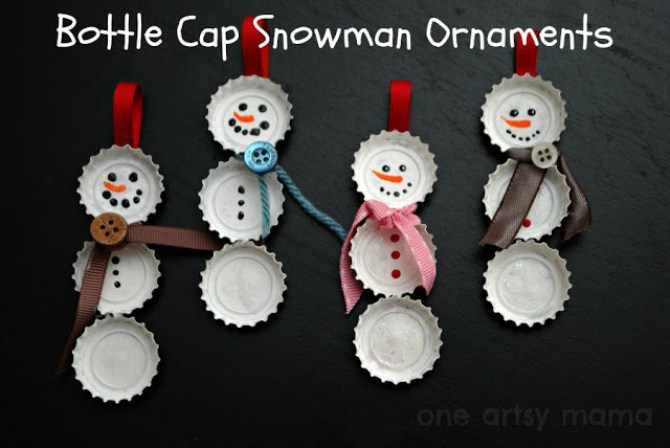 Even though Australians are more likely to make a sandcastle than a snowman at Christmas time, the image of a snowman is still synonymous with the holiday season. These decorations are super simple and perfect for little hands.
5. DIY mirror Ball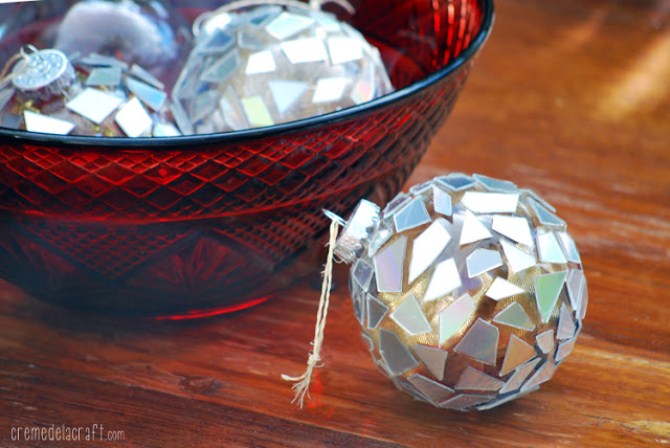 If you've ever wondered what you can do with your old "Christmas Is… Johnny Farnham" CD (yes, back in the day John Farnham used to refer to himself as "Johnny"), now you have the perfect way to turn something useless into your very own Christmas craft project. Children will definitely need help with this one as it involves difficult cutting and sharp edges.
6. Wineglass snow globes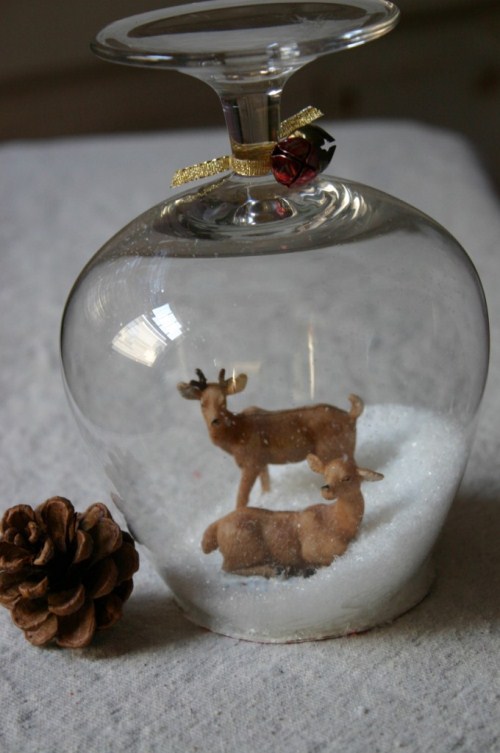 By Family Chic
Again with the snow and winter references! You can either repurpose old wine glasses (long stemmed seem to work the best) or pick up a set cheaply at a discount store or IKEA. Then you simply work from the bottom up and glue your desired ornaments onto cardboard and add some fake glitter snow.
7. The Christmas Tree That Doesn't Exist
By Not Martha
From a distance this looks like a regular Christmas tree, but get close enough and you'll realise there is no trunk and nothing attaching the decorations to the floor. If you don't mind suspending many strands of clear thread from your ceiling, this is an effective and clever DIY Christmas tree with a difference.
8. Santa Hat Chair Covers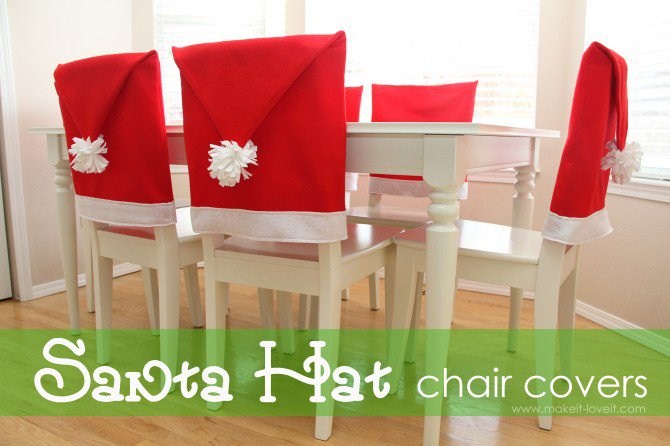 By Make it Love it
These festive chair covers are made from felt and, although a little sewing is required, the tutorial is simple and you could even encourage your children to handsew if you're not quite ready to let them loose at your sewing machine.
9. Advent calendar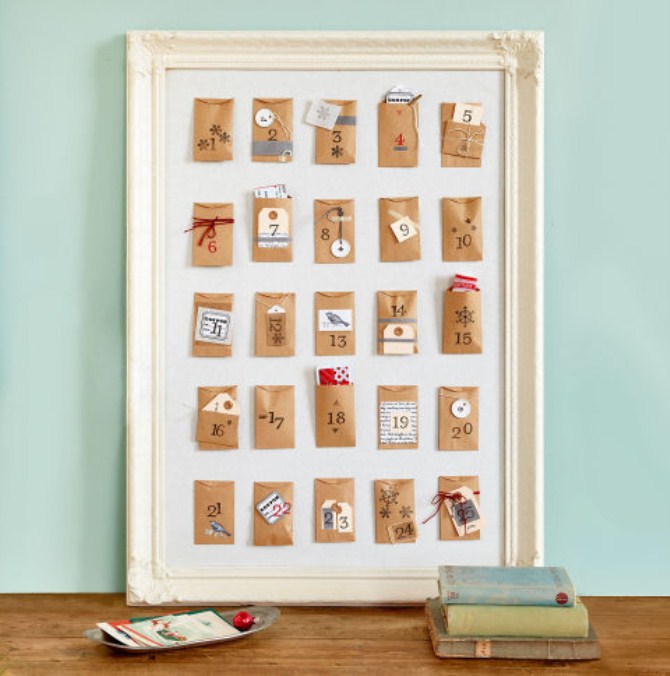 From Country Living
Who doesn't love a good advent calendar to help them count down the days until Christmas? There's no need to buy a chocolate advent calendar from the store when you can make your own using little envelopes (which you could buy or DIY) and 24 little treats. For bonus points, have your children make advent calendars for their siblings to really get them in the Christmas spirit. There's nothing like trying to think up 24 tiny gifts for someone (which could include shells found at the beach, pictures clipped from a magazine, or even home-made coupons) to get children into the spirit of giving.
10. Matchbox Advent Calendar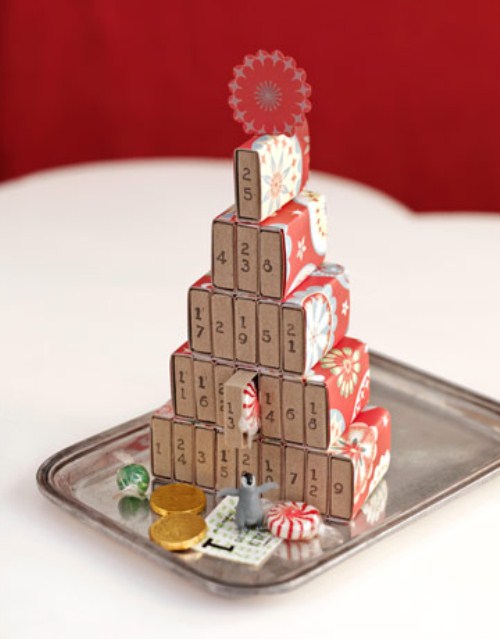 From Country Living
We just couldn't resist adding in another DIY advent calendar idea when we saw this repurposed empty matchbox containers project. You'll need to start saving your matchbox containers well in advance (who really needs that many matches anyway?) but the end result is super cute.
11. Alphabet pasta Name Cards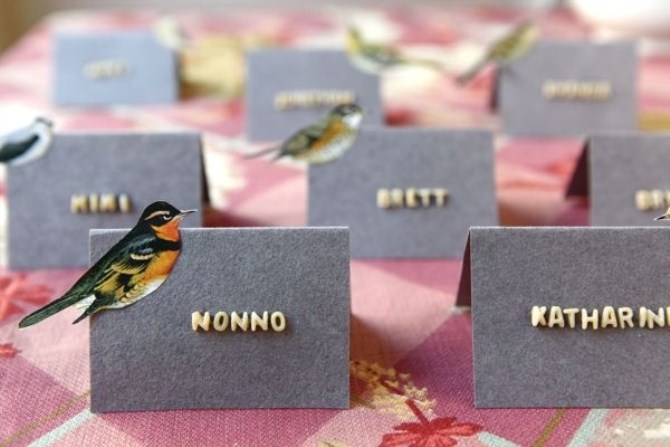 By Oh Happy Day
You'll need an abundance of patience, but there are hundreds of letters in packets of alphabet pasta which can be turned into innovative name cards for Christmas lunch.
12. Candy cane mice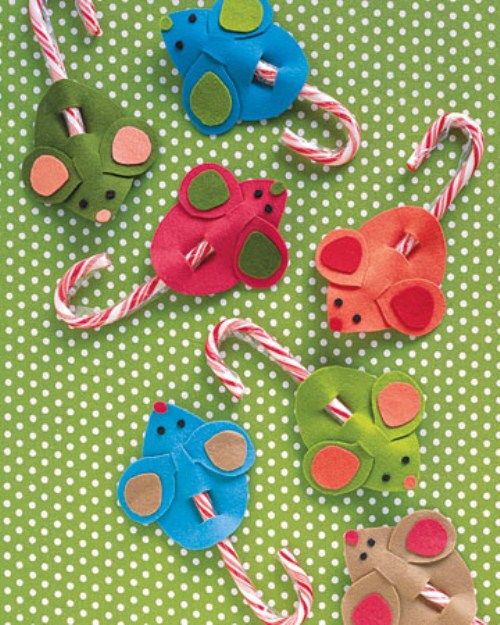 From Martha Stewart
These candy cane mice decorations double as party favours or inexpensive gifts when you're giving in bulk, such as when your child wants to bring a small gift for everyone in their class at school.
13. Christmas Cutlery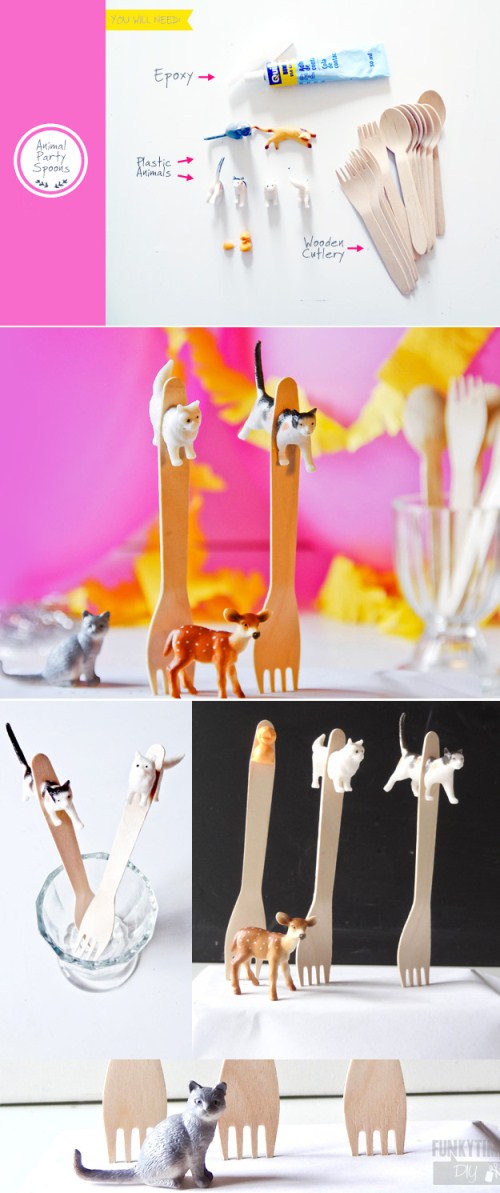 By Funky Time
Make your own Christmas cutlery by cutting plastic animals in half and gluing them to either side of the end of each piece of cutlery. Bonus points if you can find reindeer instead of farmyard animals.
14. Tiny Lit-Up Felt house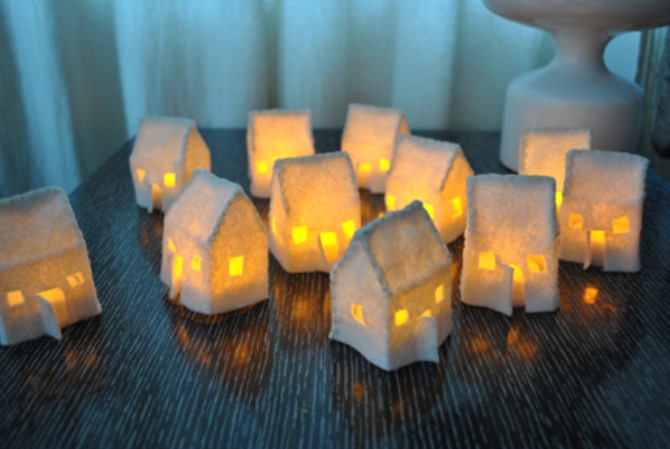 Who knew you could turn a piece of felt and a tea light candle into a tiny lit up house? We would recommend using fake, battery-operated tea light candles instead of the real thing otherwise they might pose a bit of a fire hazard.
If you've managed to convince your children to work on some home-made Christmas ornaments with you, wait until everyone is busily working and then surreptitiously snap some photos. Have your favourite photo turned into a heartfelt canvas print and then display it near the finished DIY decorations as a visual story of how your home-made decorations came to be.