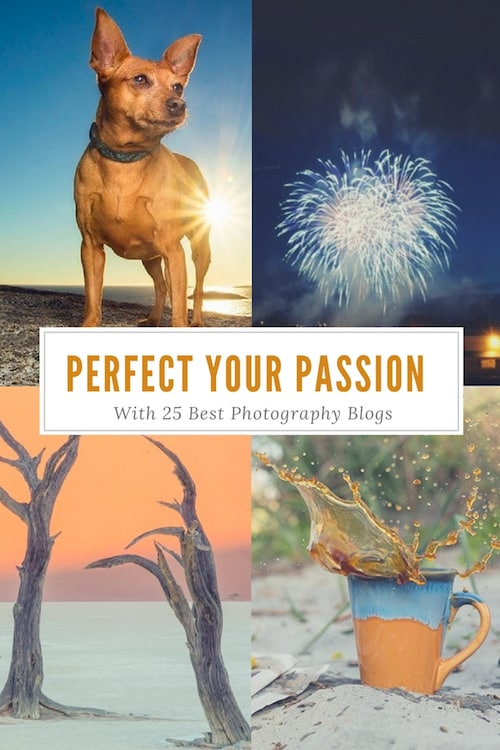 Whether you're a beginner or an experienced photographer, it's always important to continue trying to perfect your passion. Mediocrity, in the world of photography, is not an option for those who want to improve their skills.
Signing up to the best photography blogs is a wonderful way to garner new knowledge. The photo inspiration alone is enough to keep you going back for more.
We've taken the leg work out of finding the best blogs on this topic. There's something for everyone here. Start clicking, in more ways than one!
1. Digital Photography School
Digital Photography School features a goldmine of resources. If you're keen to take your photography to the next level, create stunning photos and get the most out of your camera, this blog offers awesome daily tips, resources and free tutorials.
Photo source: By Andrew S. Gibson in 5 Creative Exercises to Help Make You a Better Photographer from Digital Photography School.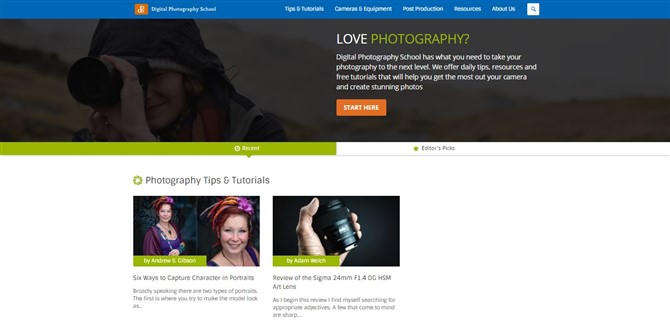 2. DIY Photography
A bit of a photographer hang out, DIY Photography is an online space to find inspiration, source educational content and chat about gear. Featuring some of the most inspiring photography worldwide, it's an absolute must for those who love behind the scenes footage and photography tutorials.
Photo source: By John Aldred in This Is How Sky Pollution Affects Your View Of The Night Sky from DIY Photography.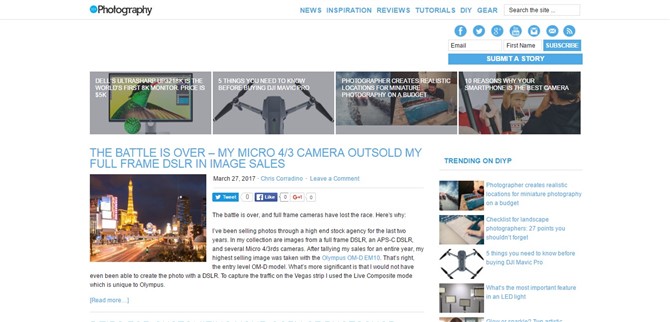 3. Photography Concentrate
With a focus on fun, Photography Concentrate are your very own photo friends. Get to know their crazy story and be inspired by how they became photographers.
Photo Source: By Rob Lim in 6 Tips For Better Bokeh from Photography Concentrate.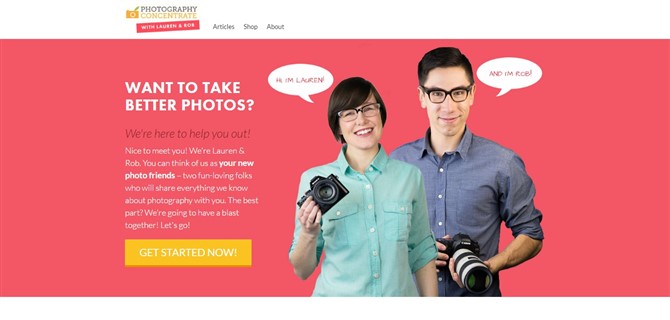 4. Inspire Me Baby
Discover the art of taking portrait photography at Inspire Me Baby. Apparently starting off as a baby photography blog, it's transformed into so much more over the years. Watch how people's emotions are captured on camera.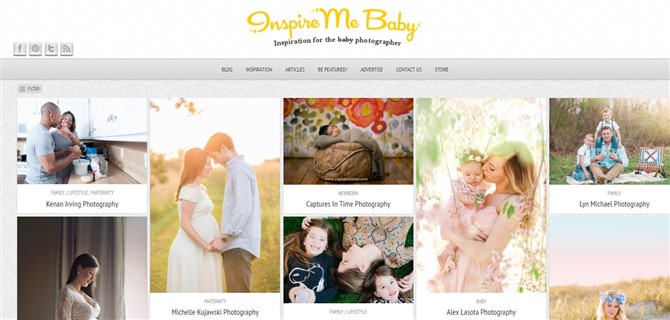 5. The Photo Argus
The Photo Argus is simple, but stunning and full of inspiration, tips and gear chat as well as info on photographers to follow.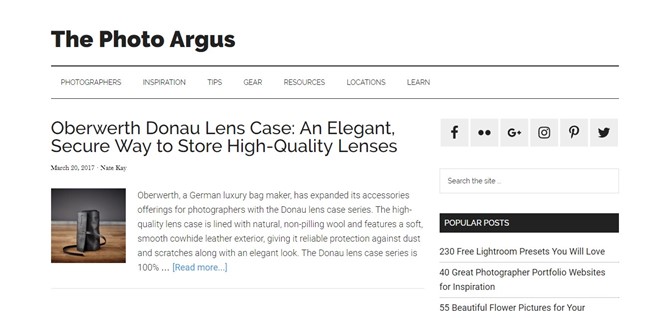 6. PhotoJojo
As well as being able to shop for all fun things photography, the blog by PhotoJojo covers photo techniques, gear, DIY tips plus a section called 'weird' which is super fun, featuring some of the most awesome pictures on the web.
Photo source: In Splash Photography: How to Capture Liquid Motion from PhotoJojo.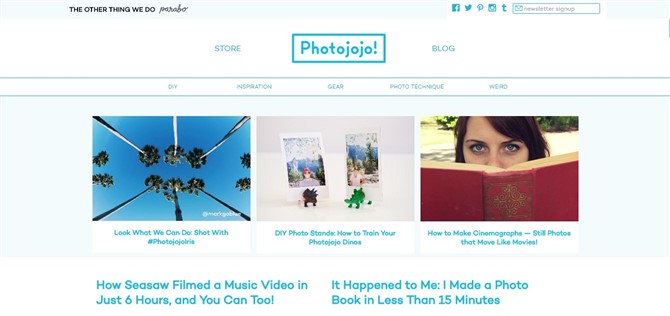 7. Strobist
Want to learn how to use your flash like a pro? Stobist is a popular resource to help master that one important thing.
Photo source: In Lighting 101 from Strobist.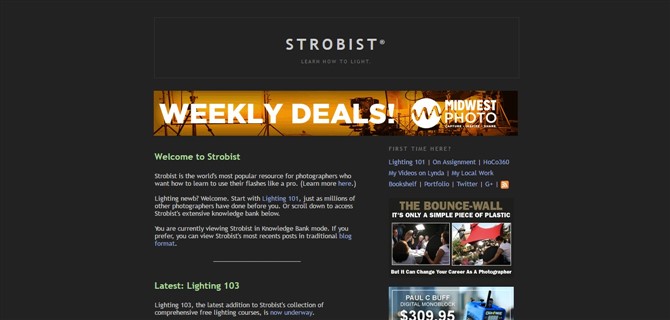 8. Photofocus
Fancy some help in your goal to become a photographic artist? Photofocus features content from accomplished photographers and unique artists.
Photo source: By Lee Varis in How to Desaturate Shadows in Photoshop, for 3D Contrast from Photofocus.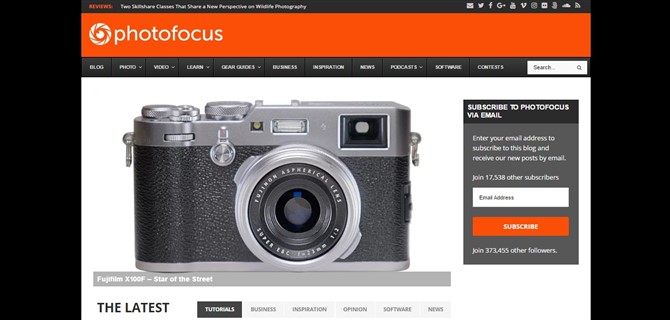 9. Clickin Moms
Clickin Moms is for Mums who love taking photographs of their children, but want to make them exceptional.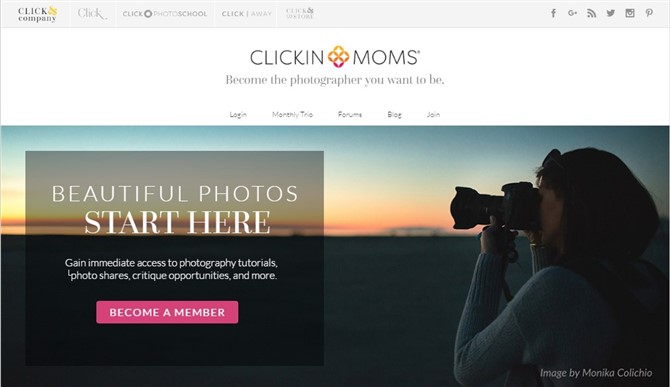 10. FStoppers
Great for beginners and experienced photographers alike, FStoppers is ideal for those looking for quick, easy tips and advice.
Photo source: By Jordan Pinder in What to Bring to a Dog Photography Session Besides Camera Gear from FStoppers.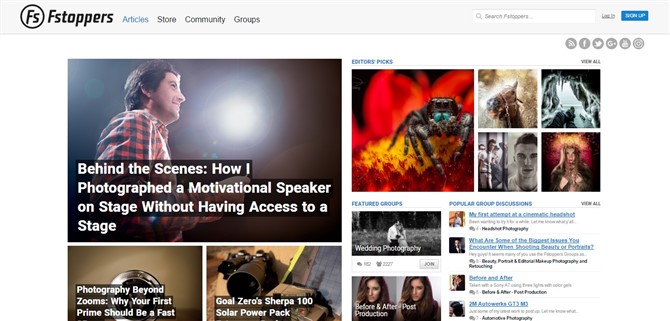 11. Chase Jarvis
More of an audio-visual learner? Chase Jarvis produces great videos on photography. A master of his craft, he's built his brand and loves sharing his insights with the online world.
12. Lightroom Killer Tips
Living up to its namesake, Lightroom Killer Tips includes article and videos on how to improve images in post production.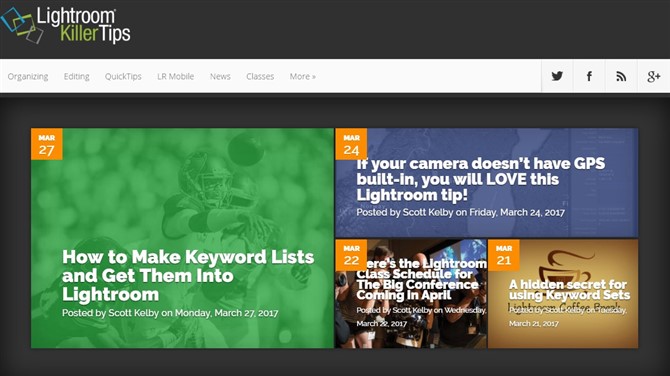 13. Photo Focus
Looking for inspiration and knowledge? Photo Focus is a great online place for every type of learner with articles, videos and podcasts.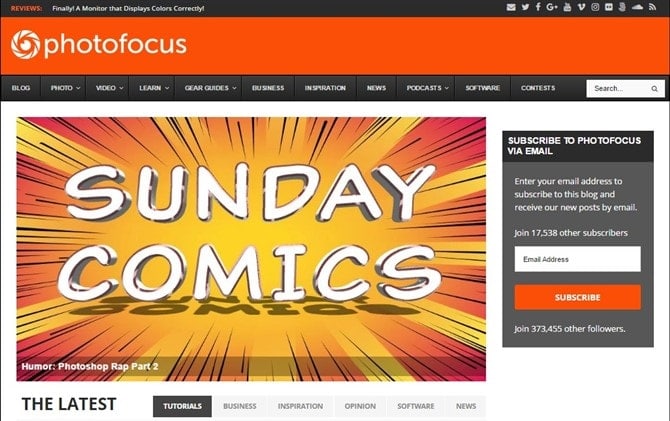 14. Click It Up A Notch
We've just shown you how much information there is online about photography. Click It Up A Notch is great for those who love photographing their family. They've made it super easy to learn about light, composition and different photography projects.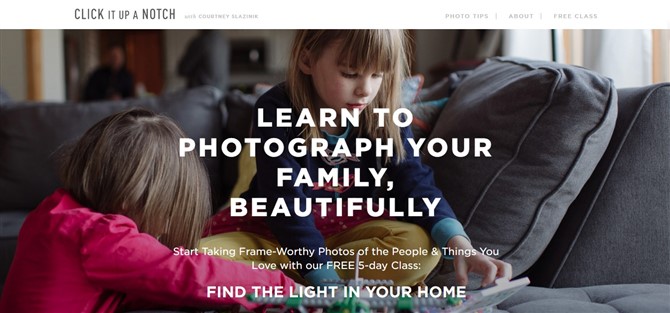 15. Jasmine Star
Want to build the business of your dreams? With a focus on wedding photography, Jasmine Star runs a blog that also features helpful 'how to' guides.
16. Light Stalking
Love articles that are short and to the point? Light Stalking is your home. A great space for photographers seeking feedback on images and solid advice. Oh – plus beautiful images galore.

17. Skip Cohen University
Keen to learn the business of photography? Check into Skip Cohen University for a gateway to success.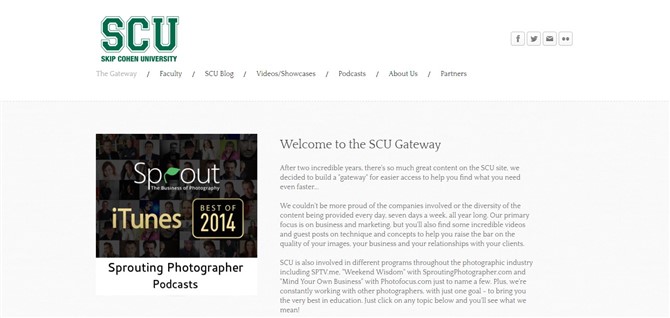 18. David duChemin
A gorgeous portfolio, some great books and wonderful free reads, David duChemin is a world and humanitarian assignment photographer whose nomadic, adventurous life is one to admire. You will be impressed.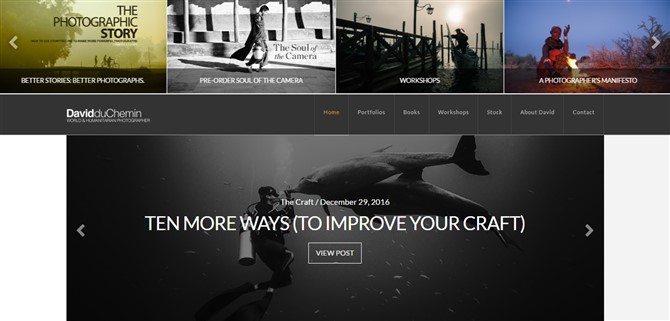 19. PetaPixel
PetaPixel covers the wonderful world of photography. The team loves photography and wants to see others love it too. Their goal is to inform, educate and inspire.
Photo source: By DL Cade in How to Make Your Subjects 'Pop' with Complimentary Backgrounds from PetaPixel.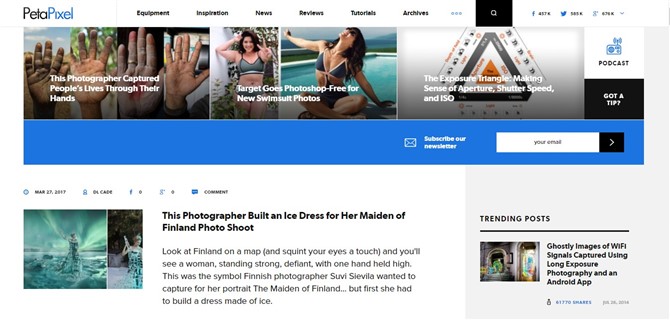 20. Richard Bernabe
Constantly updating his blog with awesome photos, Richard Bernabe lists a description, the location and the camera he used with each photo. Richard's a bit traveller, so it's wonderful to live vicariously through him (and dream of travel!).
21. Karl Taylor Photography
A great concept, Karl Taylor Photography has a great blog but also hosts amazing photography courses and workshops – plus access to gear.
Photo source: By Karl Taylor in How to create a sequence in one shot! at Karl Taylor Photography
22. Outdoor Photographer
Adore landscape and nature photography? Outdoor Photographer features a an abundance of content on exactly that – the magic of the outdoors.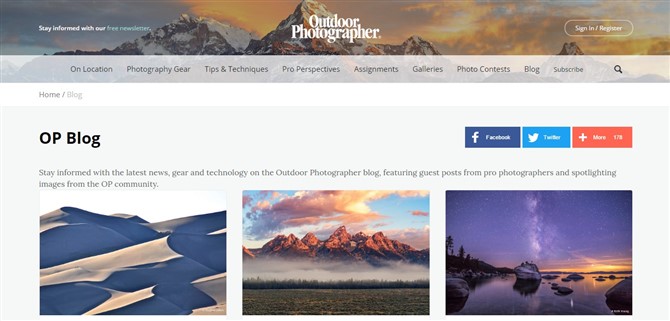 23. The Phoblographer
Covering the psychology of creative photography, The Phoblographer fills a much needed niche with pieces like 'Intro to Street Portraiture: Learn How to Approach Complete Strangers' and 'Colorgrams: Combining Psychology and Analog Photography Accidents'. Lots of helpful tips and tricks.
Photo source: In Useful Photography Tip #173: A Common Misconception Involved with Scanning Film Negatives from The Phoblographer.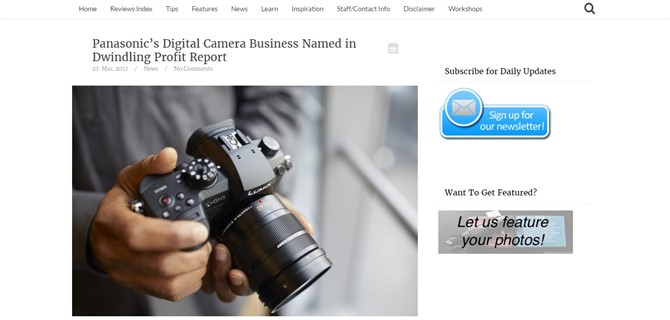 24. Alex Wise
Alex Wise is a clean and beautiful site with a great reader-friendly blog.
Photo source: By Alex Wise in Before and After – Warburton Cement Creek from Alex Wise.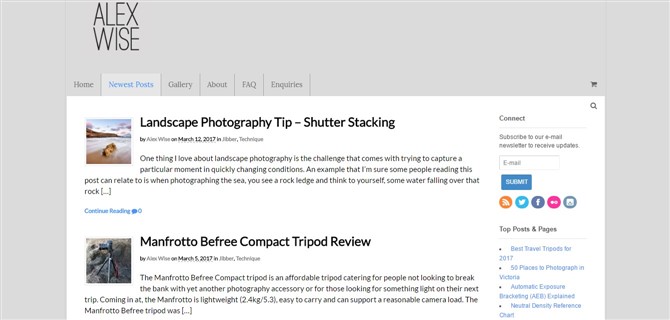 25. Fro Knows Photo
Fro (aka Jared Polin) is a big photography personality. His videos on Fro Knows Photo are super entertaining and his blog is packed full of awesome photography tips and advice.