The Hamptons is no longer just a dreamy, coastal seaside destination; it's turning into a unique decorating style in its own right. Now you can get the Hamptons home look by introducing light, bright colours and a resort-style mood into your own home. Imagine a sophisticated, nautical-style, yet glamourous holiday home and you'll understand what a Hamptons home is all about.
Hamptons house style is becoming increasing popular, because its versatile enough to be incorporated into any home. It is easily adapted into more classic or country-style homes, yet, on the other hand, can also suit more modern-eclectic style homes, coastal residences or even Grecian, resort-style homes.
The Hamptons home starts and ends with white, with occasional touches of blue, grey or yellow. The look is about feeling fresh and beachy, yet refined, with a touch of glamour.
So, how can you get Hamptons house style without breaking the bank? Read on to check out our top Hamptons home styling tips.
1. Fresh paint can work wonders
A coat of fresh paint can breathe a new lease on life into a dull room, and white always works wonders. White is notorious for making rooms appear larger than they really are, and, as they reflect the light, they'll make your rooms appear brighter, too. And while the Hamptons house style is more about classic "white whites", there's still a vast array of options and shades that work within the fresh, yet limited Hamptons colour spectrum.
Hamptons home style usually incorporates more pure whites and grey-white tones, as opposed to warmer colours. So, think pops of duck-egg blue and mint greens. That said, a warmer white with an all-white overall theme and splashes of on-trend apricot or blush pink can look divine. Like any home style, there are no hard and fast rules when it comes to creating your Hamptons look; as long as the entire look is pulled together tastefully with a few key pieces to complement each other, combined with some clever design choices.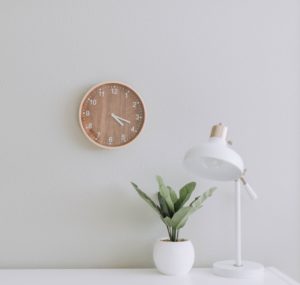 2.Layer crisp textures for a warm touch
Hamptons house style is all about elegance, while still feeling comfortable, feminine, and relaxed. To achieve that comfort, adding textiles in your spaces is important. This also creates some much-needed texture to break up the large expanses of white.
Great textures to incorporate into your Hamptons home are:
Natural fibres like cotton and linen; think Greece in the summer
Luxurious fabrics layered over one another, for the ultimate comfortable Hamptons home. Layer a heavier grey textured rug under a lighter faux fur floor rug, or drape a white faux fur or throw over a blush velvet stool
Add a textured wall hanging to create intrigue and give hard walls a touch of femininity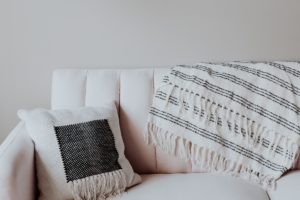 3.Wall art for the win
Don't neglect your walls in the midst of your Hamptons home upgrade. The best part is, wall art is one of the easiest ways to dress up your home, and can instantly work to change the look and feel of your spaces. You can create an instant sense of glamour and sophistication using just one piece of large wall art to make a statement.
Some Hamptons-inspired ideas are:
For something a little different, metal wall art can bring a contemporary look to your Hamptons house style. Metal wall art is durable, has a stunning high-definition finish, and is fade resistant; perfect for sunrooms, or even outdoor areas. It looks great with seascapes and vibrant images.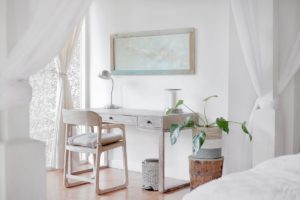 4. Hamptons style furnishings
When furnishing your home Hamptons-style, think luxury resort. That means oversized furniture and washable linen slipcovers for couches. Furniture might be upholstered in light fabrics or a fine-stripe in neutral colours or a light blue.
Again, various shades of white are usually best for Hamptons house style, but natural fabrics also work well for furniture; cane, and wood painted white will have your space reading "luxury resort" in no time. Suffice it to say, you'll also need a generous scatter of comfortable cushions adorning your couch to perfect the look. Here, you can add more colour; shades of blue, grey, earthy tones or smaller pops of colour look best here.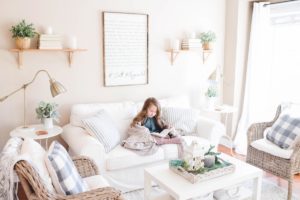 We've talked a lot about white, but Hamptons is all about minimal, so it can be blended with earthy tones like sand, black, charcoal or grey furnishings, and gold hardware; as long as it doesn't overpower the room. Like any style, you can interpret Hamptons however you like, and a more "modern" Hamptons look might utilise more dark colours.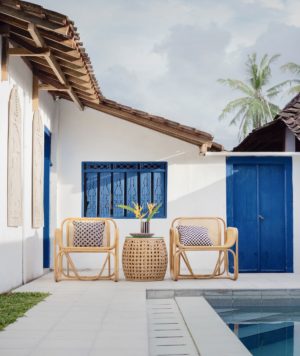 5. Add patterns
Against such a neutral backdrop, subtle patterns will give your rooms a little more edge and add some intrigue. The trick is to either have small splashes of patterns or use larger expanses of small, fine patterns like pastel blue and white stripes, or grey and white.
Pink gingham or charcoal or grey pinstripe can also add an elegant touch to your spaces and can provide an impressive contrast with Hamptons neutrals.
Or, think seaside; shell patterns, seahorses, cool colours, geometric designs, wave patterns and anything reminiscent of the sea.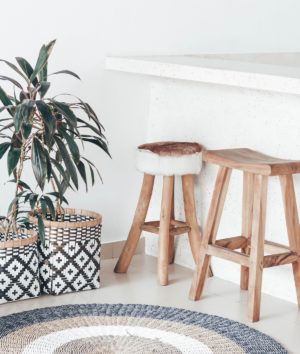 6. Add texture
As well as a variety of patterns, a range of textures can also add some intrigue to an otherwise-neutral Hamptons space.
Wood-panelled walls, wainscotting and weatherboards can also be used in interior spaces to create an interesting textural look. Using the right materials can also add an extra layer of insulation in the home.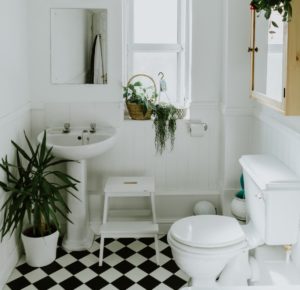 7. Add pops of greenery
Greenery can add a welcome splash of colour to Hamptons homes, whereas flowers can create a more "country-style" look, unless used sparingly. Overall, the Hamptons house style is about minimalism, so too many fussy flowers can detract from this look.
A few select large, dark green indoor plants can make a strong statement, rather than choosing a lot of smaller plants. Alternatively, you could also choose a bushier plant potted in a whitewashed or grey-coated pot.
Not only will plants add a touch of colour, but they'll also breathe life into your rooms, making your space feel more alive.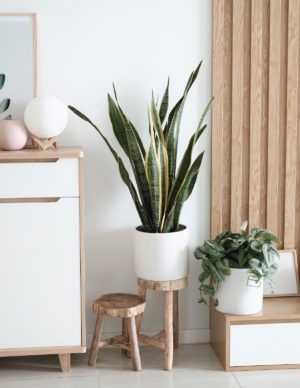 8. The right light
Hamptons house style is all about white. And lights will make your whites look even whiter! The more you can project and reflect light in a Hamptons home, the better. This will also make your spaces appear larger.
As well as having light or white paint colours, you can reflect light by using metallics, mirrors, and bright objects. Large mirrors create the illusion that your rooms are bigger than they are, and, for maximum light, place them opposite or next to your windows, as long as they don't reflect harsh morning or afternoon light right into your eyes!
Metallic wall art can also reflect more light. Silver, pewter, chrome or gold stools, table legs, or lamps can add a touch of glamour to your spaces and create more light. Glass ornaments or light coverings can also be used to reflect light.
If your spaces are looking a little dark, you can also use wall art to create and reflect light in your spaces. If white wall art isn't your thing, brighten up your rooms with pearly pastel wall art.
Similarly, a moody seascape can be used to break up all that white with a splash of deep colour.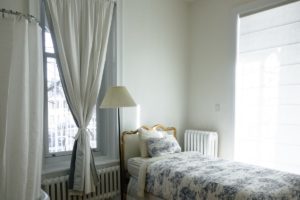 9. Well-placed windows
To create more light, large windows are a must. To complete the Hamptons home look, round windows can create a mood reminiscent of a ship's quarters, not to mention they create a unique look in your home.
Lighting is key when it comes to your Hamptons house look, so ample light is a must. You can let more light in with sheer, floor-length, romantic white curtains in living spaces, but you may want more privacy for bedrooms and bathrooms!
Roman blinds are another great option, adding texture and style, while shutters can create a more classic Hamptons look.
Hamptons homes are all about being light and airy. This means a seamless transition between indoors and outdoors. To create this, make use of sliding or bi-fold doors, and complete the transformation by making alfresco areas as liveable as possible. Outdoor areas should be comfortable; large, comfortable couches with lots of cushions are a no-brainer, as well as lots of throw rugs and outdoor rugs for added comfort to really make the most of your outdoor spaces.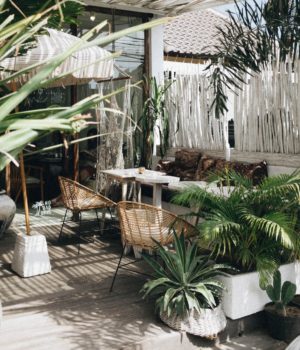 10. Sophisticated styling
Touches of metallics can add a sense of luxury to your spaces. Try side tables in aged brass or white tables with bright gold legs.
Alternatively, matte black hardware can add a touch of modern elegance and sophistication to your spaces, and look great in bathrooms and kitchens.
Despite the neutral base of a Hamptons home, your spaces shouldn't look overly minimalistic. Layer levels, textures and pops of colour.
Remember:
Start with a fresh coat of white paint
Add rugs, throws and wall hangings for warmth
Add some Hamptons-inspired wall art to add some much-needed colour or to brighten up a darker room
Use a range of textures to create intrigue; some white weatherboards on the walls, and a blue velvet cushion here or there can achieve this
Play with levels; the eye should move from tall bookcases to a bed or table to a smaller side table
Don't overstuff your rooms with trinkets; you need space, yet you want your rooms to have a lived-in feel
Cushions are a great way to add stronger pops of colour
Use glass and metallics to reflect more light in your rooms
Use natural fabrics and textures for a more relaxed, casual look
Add greenery to breathe life into your rooms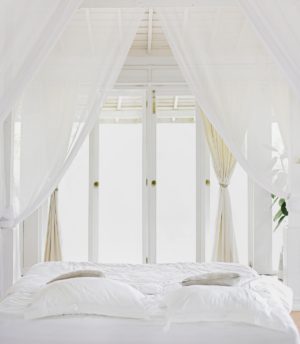 So, where do you begin? If you're looking for an easy way to start setting up your Hamptons home, start browsing our vast range of wall art options here.
We've got over 25 million images to choose from, whether you want to choose a seascape or images of the actual Hamptons in the US! Or, upload your own image; a favourite seaside destination, a happy holiday memory, or your family at the beach. The choice is yours!