Turning wedding photos into stunning pieces of canvas art is nothing new – in fact, it's one of the original ideas that people brought to canvas printing. Like anything else, though, the easy stuff's been done – taking a standard, traditional "glamour shot" of your wedding and turning it into a breathtaking piece of wall art will always 'work' in the sense of being gorgeous and having visual impact while also celebrating your relationship and your marriage. But no matter how glamorous your photos are, if they're traditional, then so is your canvas art.
These days, it's increasingly common for couples to have two tracts in their wedding photos – the traditional, and the crazy. People dress up in superhero costumes, stage funny photos, and generally have the time of their lives. Take that inspiration and create one special photo that will be your wedding canvas print to end all canvas prints – and here are a few ideas to get you started!
Having Fun with Wedding Photos: Go Full Whimsy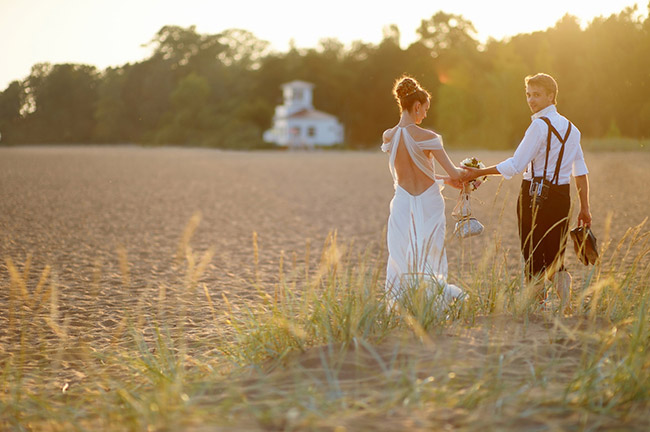 If you think about the amount of time, money, and planning that has gone into your wedding, choosing everything from the venue to the silverware and every detail in-between, it's a shame that so many people leave their wedding photo decisions up to the photographer. Sure, they're professionals and they know what they're doing, but it's your wedding and your spirit.
While not add one more detail to your plans and come up with an incredible staged photo? We've seen people stage wedding photos where they're fleeing from dinosaurs like in Jurassic Park (with dinos added later, of course), where they're captured in mid-air kung-fu fights like in Kill Bill, where they appear to be floating away into the air while clinging to an umbrella, Mary Poppins-style. None of those might be your style – but why not come up with something super fun and plan ahead?
Making Canvas Art Out of Nothing at All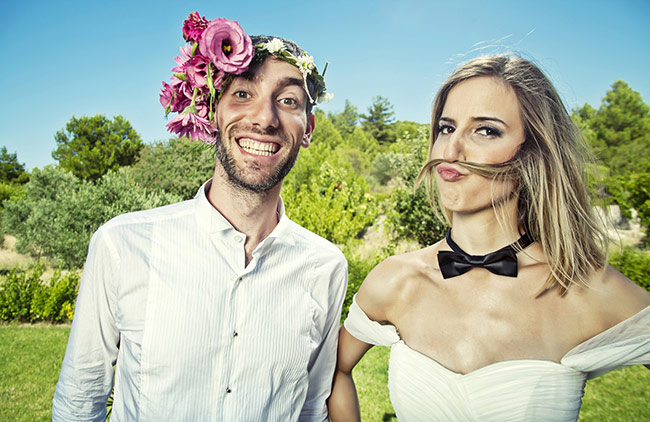 On the other hand, if you simply aren't feeling that creative or don't have time to add one more detail to your planning plate – or just didn't think about it in time – there are plenty of ways to create an amazing wedding photo specifically for canvas art. Here are a few simple ideas you can do on the spur of the moment:
Jumping: Capturing people in mid-jump results in a kinetic, startling image that leaps off the wall. Have the Groom and Groomsmen jump over the ladies and snap a pic mid-jump!
From Above: Every wedding photo ever is basically the same: Bride and Groom locked in an embrace – standard. Shake it up by getting your photographer up above the couple and get a shot looking straight down at them.
Casual: Forget the carefully staged photos you took for your family. Find those casual ones when you didn't know you were being photographed, and choose one that really captures the craziness of your relationship.
Use Architectural Details: Stairways, doorways, pillars and other aspects of your venues can be natural – and amazing – framing devices that bring shapes and lines to your wedding photos to augment your own posing.
The key is to have fun. Canvas art from wedding photos should be better than every other print you have, because it's going on your wall – don't hesitate to get a little crazy. When you've created the world's greatest wedding photo, click here and we'd be honoured to turn it into the world's greatest piece of wall art.