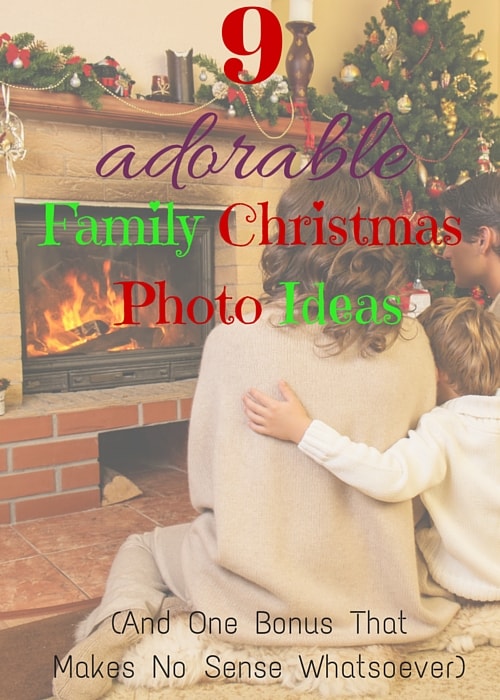 Early October: "This is the year I am definitely sending out Christmas photo cards."
One week before Christmas: "Ugh. This is the seventh Christmas photo card I've received – it's definitely too late to make my own card now. Next year… definitely!"
And so the cycle continues.
Does this sound anything like you? It's always such a thrill to receive a personalised photo Christmas card from someone, yet it seems like so much work to actually create a holiday card for your family.
But it doesn't have to be that way. Yes, you could book a session with a professional photographer and you're almost guaranteed to get some amazing Christmas photos that will make perfect personalised Christmas cards to send out to everyone. But we're here to tell you that you don't need to book a photo session and spend hundreds on ridiculously overpriced professional photos, when you can achieve the same effect at home with your own camera (or even, at a stretch, your smartphone), some basic props, and most importantly, these clever Christmas photo ideas to get your inspiration going.
1. The Best Christmas Present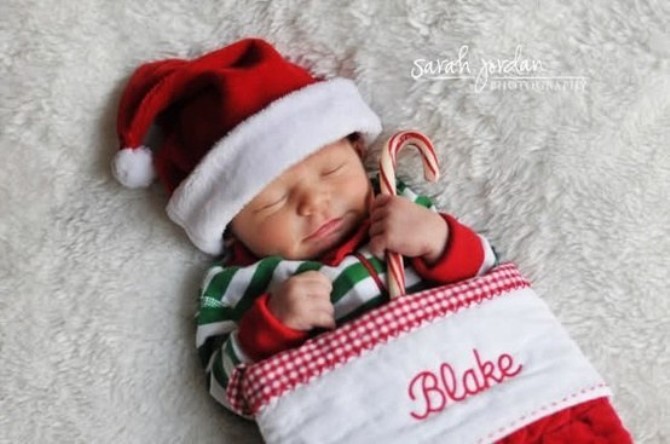 If you're lucky enough to be a new parent at Christmas time, you've already received a present better than anything else Santa could bring you. Your new little stocking stuffer will make the perfect Christmas card photo, and could even double as a new baby announcement card if the timing is right.
2. Natural Christmas trees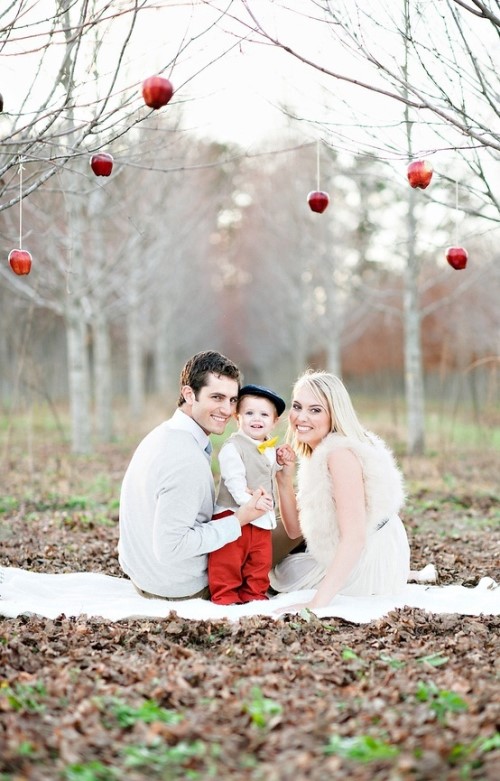 If Christmas has become just a little too commercialised and, can we say "plasticky" for your taste, head outdoors to take your Christmas snaps. These shiny red apples hanging from low lying branches give just a hint of a decorated Christmas tree, without all the commercialism.
3. Waiting for Santa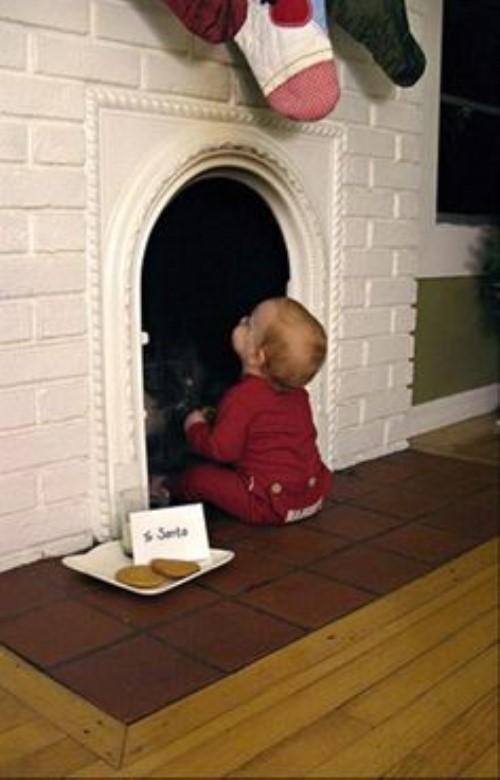 If you've got a small child and an honest-to-goodness fireplace in your home, then you've got a photo opportunity just waiting to happen. All you need is to have baby sit still long enough and look up in just the right way, and yours will be the favourite of all the personalised Christmas cards doing the rounds this year.
4. Silent Night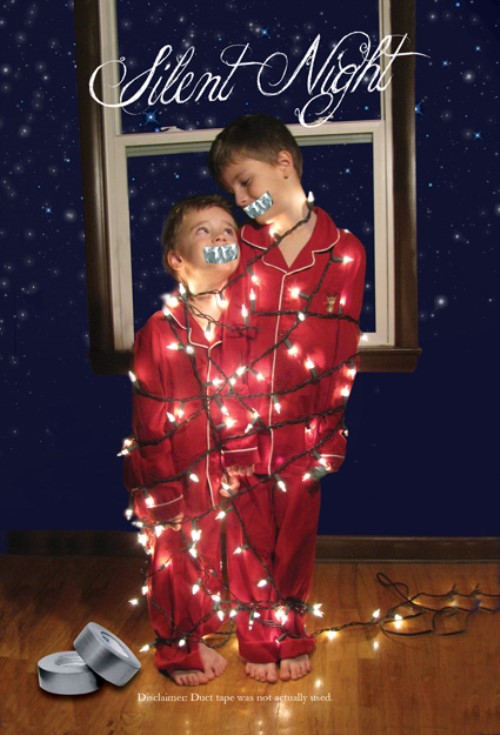 By The Apels
Aww. Silent Night would have to be one of the most beautiful and revered Christmas carols of all time, but that doesn't mean you can't turn it into a cute family joke. After all, a truly "silent night" becomes a distant memory when you have children, and this joke Christmas photo shows that using a little bit of masking tape can make the evening a little more hushed. Note that the masking tape itself has been edited onto the photo later.
5. Merry "Kiss"Mass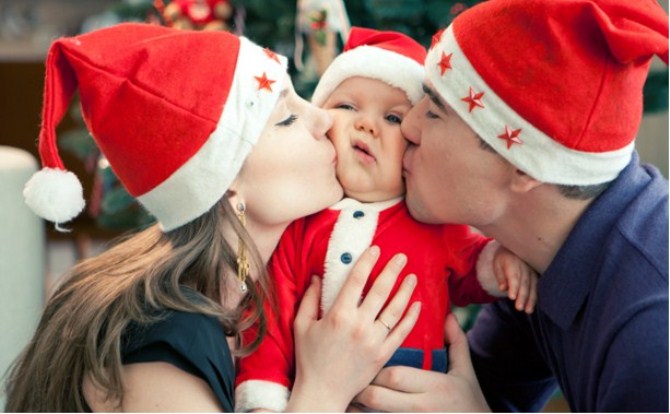 By Photo Studio
It's rough to be a baby sometimes! First your parents dress you up in a fuzzy hat and a red and white onesie, then they smoosh your cheeks at the same time, and then they take a photo and send it to all your relatives.
6. Mistle"toes"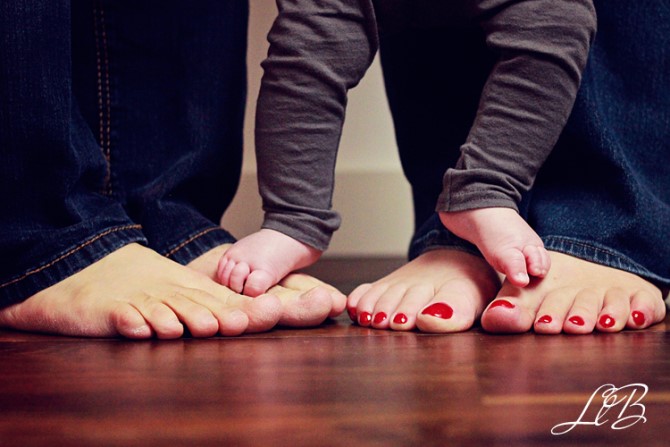 By Laura
Feet and toes photos work beautifully in so many circumstances: engagement photos, pregnancy announcements, and new baby photo cards, but this is the first time we've seen feet photos being used for Christmas. With the theme of mistle"toes", dress up your feet all Christmas-like, perhaps with red, white and green nail polish, or tiny tinsel toerings, and then make some kind of mistletoe pun in the wording of your Christmas card.
7. I saw mommy kissing Santa Claus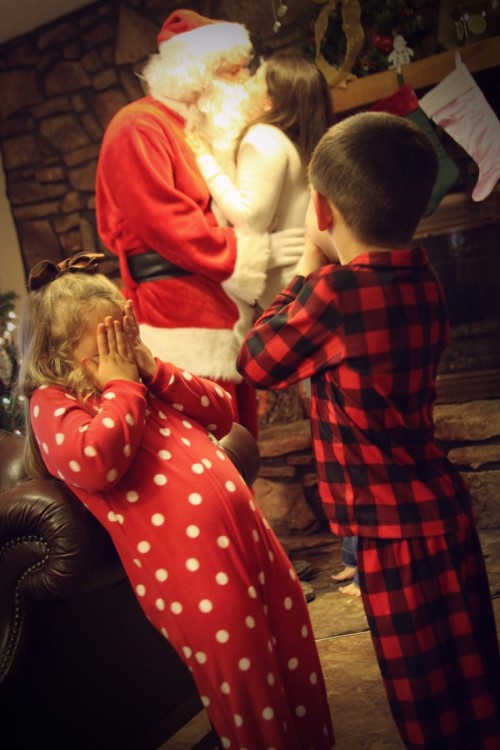 Most adults will be familiar with the classic Christmas song, so explain the song and meaning to your kids, then have Dad dress up as Santa Claus and have everyone pull out their best dramatic faces. You may be surprised at how much your kids will rise to the occasion if they are asked to try some dramatic playacting for your photoshoot!
8. These Christmas lights…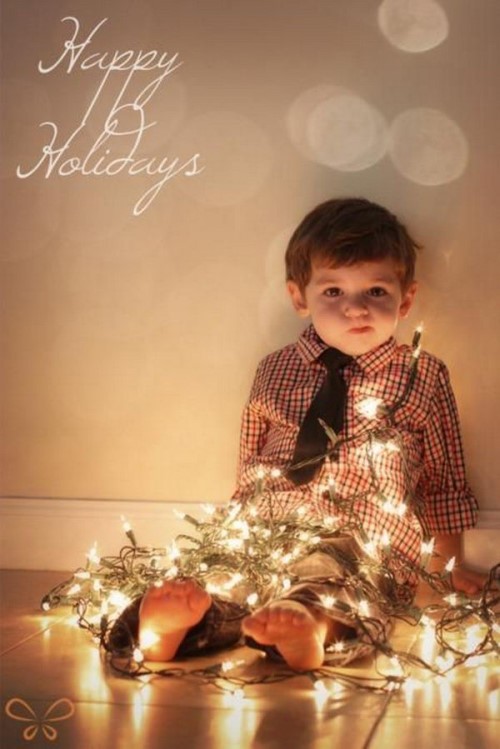 By Paper Blog
Sparkly, twinkly Christmas lights are truly magical – unless you're the person who has to dig them out of last years hurriedly-put-away Christmas decorations box, attempt to untangle them, and then locate the one blown bulb that has ruined the entire circuit. Re-enact this scene with a twist by having the adults fussing with the Christmas lights while the children do something magical and Christmassy like ceremoniously lighting a candle; or alternatively reverse the roles and have the children struggling with the string of Christmas lights while the adults sit back and enjoy a nice mug of eggnog.
9. "I Can Explain…"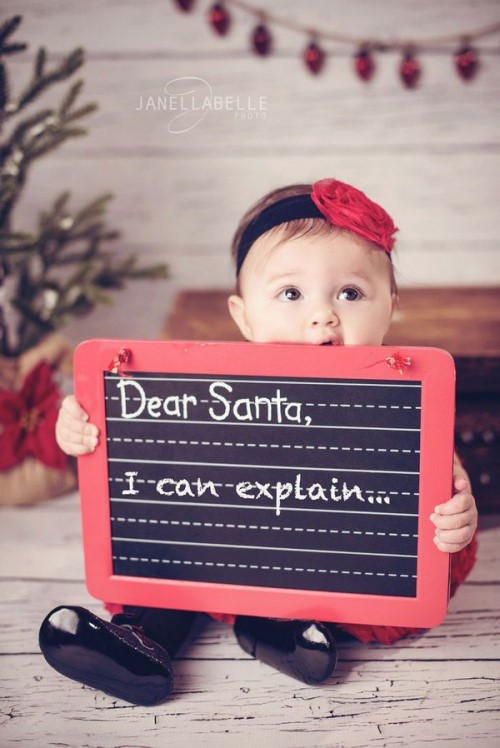 This Christmas photo is just too cute for words, and it's a sentiment that most parents would immediately understand. Because after all, what child has ever truly been "naughty" enough to not deserve a magical Christmas?
Bonus: the truly inexplicable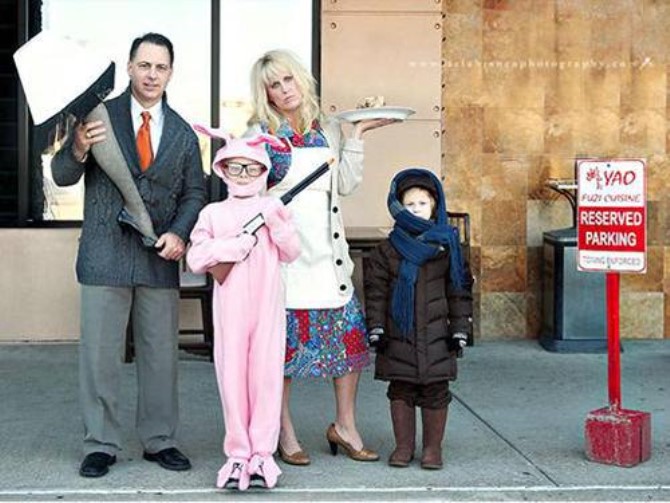 From The Berry
We stared and stared at this photo and still can't work out what it is supposed to represent. We're not even sure where the element of Christmas comes into it, and we're certainly confused as to why the little girl in the bunny outfit is holding a (hopefully toy) rifle. The point is that your holiday photo doesn't even really need to make perfect sense to everyone else – the idea is to capture your family and Christmas in a nutshell. What does Christmas mean to you? What rituals and traditions do you associate with Christmas? That's what you need to capture in your Christmas photo. And if that involves your husband holding a human leg disguised as a lamp, then so be it.
A word of warning: despite your best intentions, sometimes your Christmas photoshoot just won't work out, and it's all about timing. This is true whether you choose to see a professional photographer or whether you take our advice and make good use of our Christmas photo ideas. Sometimes baby will be in no mood, other times the kids will be restless, or it could even be you or your partner that just isn't feeling the Christmas spirit. The best advice we can give is to abandon the idea before you have World War III on your hands, and reschedule for another day.
Once you've got your amazing Christmas photo – the one that you're all happy with, and the one you just know would make the perfect personalised Christmas card – preserve the memory forever by printing on canvas.