Out of all the photography challenges in the world, one of the most intimidating for most people is the Pet Portrait. Even screaming babies and restless toddlers don't frighten people as much when it comes to getting the perfect image for photos on canvas.
One reason for this is the fact that animals can be difficult to communicate with, and often react to situations in unexpected ways. This makes getting good images for use as canvas prints and wall art quite a challenge. Many people give up and decide they need an expert professional pet photographer – but this isn't true. All you need are a few simple tricks.
Pet Photos on Canvas Trick: Sleepy Time
The biggest mistake people make when trying to photograph their pets for use in canvas art – or any other purpose – is trying to catch them when they're wide awake and playful. You might think the playful part will make for great photos, but as everyone quickly learns it really makes for blurry, chaotic, and poor-quality photos. Pets simply don't know when to stay still and when to be on the move.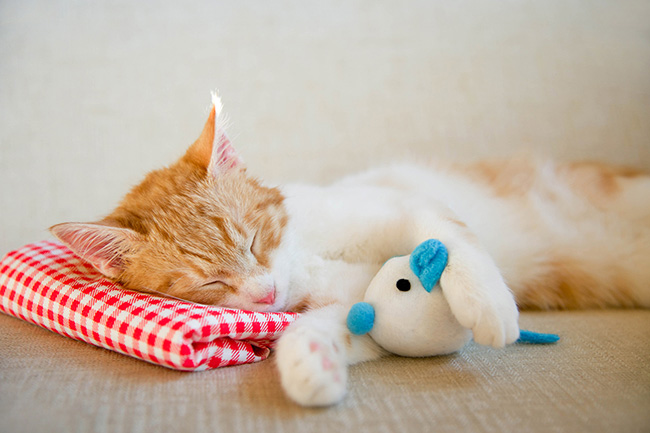 The Trick: Wait until they're asleep. A quiet, peaceful portrait of your pet curled up in their favourite bed or an unusual spot, in an adorable pose, will be just as amazing as an action shot, and much, much easier to capture. You can get in close while they're sleeping and get plenty of shots, so you can experiment with composition, lighting, and angle as much as you like.
Pet Photos Trick: Treats!
Here's another one you won't hear from professionals: Use treats to get those action shots.
The problem with photographing cats and dogs is one of control: Cats never pay any attention to you at all, and dogs get excited and start jumping out of frame. What you need is a way to predict and control the situation.
The Trick: For cats, hide those treats in something or under something, and snap away as they dive and roll and search frantically. You'll be able to predict where to focus, at least, and can repeat the experiment as long as you have treats.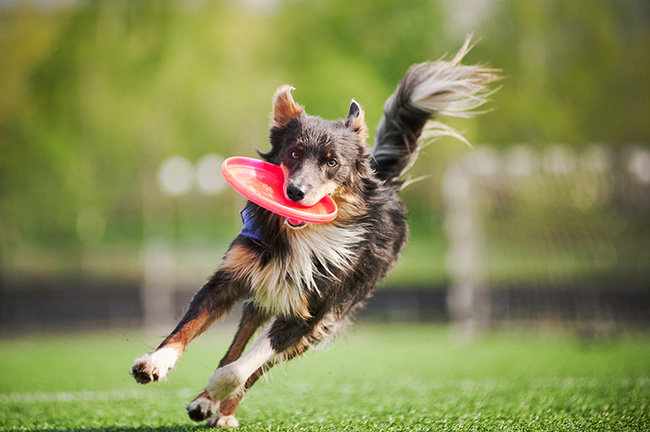 For dogs, if they're trained to any extent, you can get them to focus on you by holding up a treat, and get them to go exactly where you want them to by tossing a treat carefully – meaning you can get the shot you want easily.
The Final Trick: Serendipity
Finally, here's the biggest secret of them all: Many spectacular pet photos that make excellent photos on canvas are accidents. Always be ready: You may not be able to pose or control your pet, but if you always have your finger on the shutter of your camera, and take as many photos as possible, you're bound to capture at least one that makes for a stunning piece of canvas art.
Now that you know the tricks of the trade, get out there and get the perfect photo of your beloved furry friend. And when you do, click here and we'd be proud to turn that image into a piece of wall art everyone will talk about.