With the majority of Australians now spending most of their working hours working from home, it's more important than ever to have a chic, clutter-free home office where it's easy to get things done. These home office wall art ideas will help you personalise your office and help you feel positive and inspired while working from home.
Hanging the right decor in your home office can serve to motivate you, help you feel more productive and brighten up your day. No matter what your personal style is, we've got a range of home office wall art ideas to suit everyone.
7 Home Office Wall Art Ideas to Personalise Your Space
Your home office shouldn't feel like a soulless corner of your home. It should be a space that you're excited to spend time in, a place that inspires you to work, create and just generally get things done!
Your home office is your own personal space, and this should give you the freedom to be creative. Get comfortable mixing your favourite colours and patterns in your own unique way. Unlike an office at work, no one else's opinion matters, so take advantage of that! Keep reading to get the best ideas on creating an inspiring and unique home office.
1. Get colourful
Creating a bright, colourful space when you set up to work at home will inspire you to leave the comfort of your covers and work consistently all day. Instead of using the colours that might be "trending" at the moment, choose colours that have always inspired you personally. If unsure, start with a neutral base; white, black and white or ivory and sand tones. Build up from there with pops of colour. Invest in a bright rug and add pops of brightly-coloured wall art.
You don't need to go overboard if you don't want to. In fact, sometimes a single piece of wall art can make more of a statement than five bright pieces of décor packed into a small space.
Our favourite colourful home office wall art ideas are: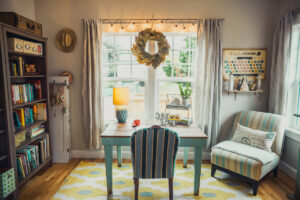 2. Create a gallery wall
If you have a larger space, one of our favourite home office wall art ideas is to create an impactful gallery wall. A gallery wall is made up of a series of different wall art pieces, and can be curated any way you like; it's entirely up to you.
Common configurations are: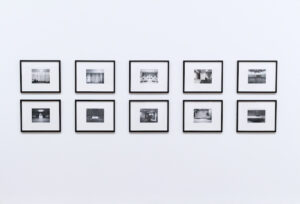 3. Embrace a small space
Not everyone has a large home office space or even a separate room w be able to set up an office. Instead, use vertical space wisely and build upwards. You can use floating shelves to place ornaments or a collection of smaller canvas prints. These can be placed on a shelf or stacked slightly overlapping over one another.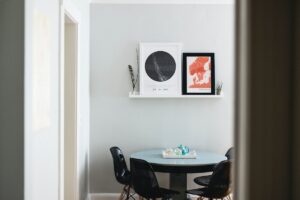 4. Get inspired
What could be more inspirational than reminding yourself of all your hard-won achievements? By hanging these in your home office space, you can be your own inspiration and get motivated to follow up your success and aim ever higher than before. Get personalised wall art in the form of: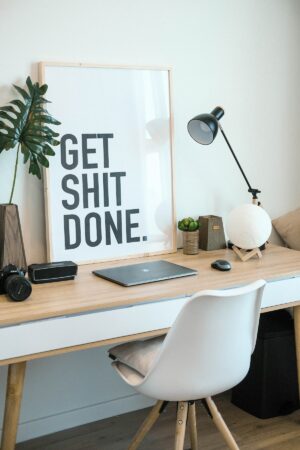 5. Get glamourous
Why shouldn't your home office be just as fabulous as you are? It's easy to add a touch of glamour with select home décor pieces like luxurious white faux fur, soft textural wall hangings and rugs, and metallic furnishings.
So, what are some home office wall art ideas that can add a touch of glamour to your spaces?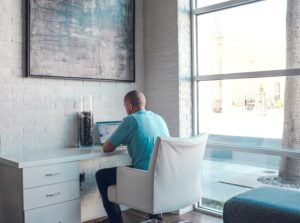 6. Eclectic wall art
Eclectic style can be a chaotic mish-mash of bold colour and patterns. With eclectic styling, more is more, but if you're looking for a method to the madness, start by anchoring the room to a large, colourful rug. Add furniture and then a couple of bright pieces of wall art to add intrigue.
We love the following eclectic home office wall art ideas to spice up your office spaces: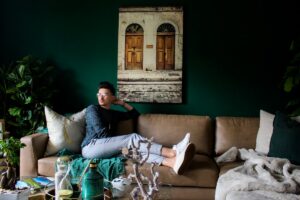 7. Add abstract art
Abstract art is the perfect kind of wall art to add to a minimal space. The best part is, it is so varied that it can suit any personality type or room type. Whether your interior design style is modern or classic, neutral or bold, there's always an abstract art piece to suit everyone! Some abstract art will make a huge statement in your rooms, whereas others will lend a more subtle mood to your spaces.
Explore our abstract home office wall art ideas to find abstract art that will suit your personality: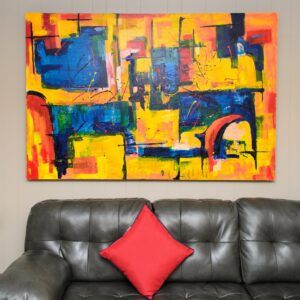 Wall art can help you personalise your spaces and make them feel more reflective of your personal style. Start browsing our enormous range of wall art to start creating your beautiful home office today or select your own beautiful photos, quotes or work to hang in your home office. That way, you'll have an inspiring space you can call your own that you'll be excited to get up for and start working in!